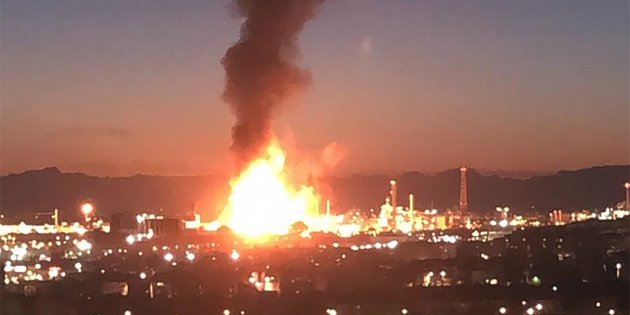 IT has been revealed that one of the two men who died in yesterday's explosion at a petrochemical factory in Spain was killed when a one ton metal plate was hurled nearly three kilometres (two miles) by the force of the blast.
The man, named only as Sergio, was crushed when the metal cover crashed into the third floor of his apartment block, causing its partial collapse. He died in his ground floor apartment.
The other man to die was a shift leader at the plant. His body was recovered this morning. Another eight people were injured, two seriously.
Tuesday's blast occurred at about 6.40 pm at the plant in La Canonja.
Authorities said it was probably caused by a chemical accident, but that no toxic substances were released. Initially people were told to stay indoors as a precaution against possible toxic fumes.
Eyewitnesses on the residential estate where Sergio died have spoken of a "ball of flame" flying through the air towards them. This is believed to be the metal plate.
A father of two children, Sergio was at the time alone because his wife had just gone out for a walk with a small granddaughter.
"It was like a bomb," said Antonia Mora, a neighbour on the first floor, who ran out into the street thinking it was a gas explosion.
The municipal architects are assessing whether the property has suffered structural damage. Late at night, in the back patio of the block, agents from the Tarragona City Guard were searching the flower beds for traces of the object from the burnt plant. Whatever entered through the third floor window caused the death of the downstairs neighbour. This morning they found it – a metal plate measuring 122 centimetres by 165 centimetres and three centimetres thick.