THE MAYOR of Almeria has extended a warm welcome to the Spanish women's national rugby team, who arrived in the city on Tuesday ahead of an international against Scotland.
Ramon Fernandez-Pacheco wished 'Las Leonas' every success in Sunday's match against the Scottish team at the provincial capital's Juan Rojas stadium, emphasizing the importance of the event for the profile of rugby and for sport in general in Almeria.
He said Almeria will be "living and breathing rugby" this week, and urged Almerians "to enjoy a grand sporting spectacular."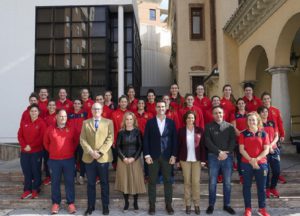 He also talked about how rugby was gaining in popularity locally and particularly highlighted the work of the Almeria Rugby Union Clan Foundation with children and adults with different functional conditions, including Down Syndrome and autism. Money raised from the international will go towards the foundation.
The Mayor took the opportunity to sing the praises of Almeria as a host city for major sporting fixtures.
In an official act attended by officials including the provincial government Sports deputy Maria Luisa Cruz, Spanish Rugby Federation director Mariola Arraiza, and Rugby Union Almeria president Miguel Palanca, Fernandez-Pacheco said the city "continues to consolidate itself as a favourable venue for the celebration of top level sporting events.
"We meet all the requirements for this: our embrace of sport, an exceptional climate, excellent sports facilities and hotel infrastructure, cuisine which made us Spanish gastronomy capital and an enviable cultural heritage, and of course the hospitality of the Almerians, who receive you with open arms."
The Spanish side's captain Isabel Rico expressed the team's gratitude for the amount of promotion for the weekend's match and for the efforts to get local children and rugby schools involved.
"This is our first match of 2020 and is very important for the European classification for the next women's Rugby World Cup", she explained.
Las Leonas are currently ranked ninth and are aiming to be among the top seven to guarantee their place in the 2021 world championship.
"I don't think there is a better place than Almeria to play", Rico added.
"It's going to be a battle, and we hope that the terraces will support us like another player in achieving our goal."
As well as preparing for Sunday's match training with Almeria teams and rugby schools for all ages, the Spanish national side's stay in the province includes tonight's inauguration of a rugby photography exhibition at the provincial capital's heritage centre in Plaza Nueva.
The 'Rugby, abriendo caminos' (Rugby, opening roads) exhibition features images captured by members of Indalofoto, and will run until the end of the month.
The Spain-Scotland match, which counts towards the international team rankings, kicks off at 12 midday on Sunday January 19.