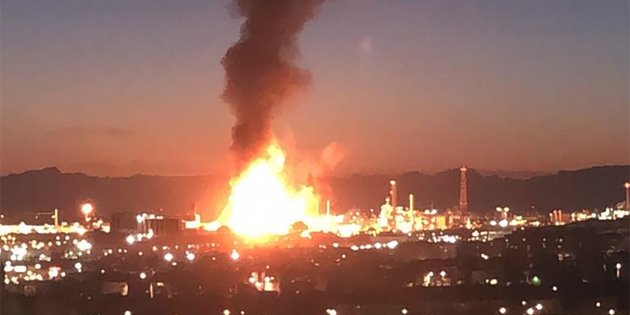 Ahora mismo en #Tarragona
¿Qué esta pasando? Alguien que informe por favor! pic.twitter.com/AY15XF1ppH

— Laura Presicce (@laura_presicce) January 14, 2020
Pictures and videos show a massive mushroom cloud of fire rising into the sky over the city in the Catalonia region of Spain. (Credit Video: Twitter Laura Presicce @laura_presicce)
ONE dead and six injured, two of them critically, after an explosion and fire at a petrochemical industrial estate in Tarragona.
As reported in earlier news by Euro Weekly News a massive explosion occurred earlier this evening at a chemical plant in Spain. People close to the affected area in Tarragona have been advised to shelter inside with doors and windows shut, as stated by Catalonia's civil defense agency.
As Euro Weekly News understands, the dramatic explosion ripped though the chemical plant causing a fire at the company Industrias Químicas de Óxido de Etileno (IQOXE).
Catalan Interior Minister Miguel Buch has confirmed one person has died and six people have been injured in the chemical plant blast in Tarragona. The fatality occurred when part of a house near the plant collapsed following the blast and came down on the person inside, whilst workers at the plant where the explosion occurred have informed a colleague is missing.
Emergency services say the flames have not caused a toxic cloud.
Twenty teams of the fire brigade Bombers de la Generalitat are working on extinguishing the fire, and have reduced the intensity of the flames which now burn in a "controlled manner."
Police cordoned off the area and cut off access roads for about an hour, reopening them at 8 p.m. Renfe has interrupted the circulation of trains between Tarragona-Reus and Tarragona-Port Aventura for more than an hour.
The president of the Generalitat, Quim Torra, the vice-president, Pere Aragonès, and the Minister of the Interior, Miquel Buch, have travelled to the site. The President of the Government, Pedro Sánchez, has contacted Torra to offer him "the necessary support"
Tweeting:
"We remain very attentive to the information that we receive about the fire in a petrochemical industrial area in La Canonja, Tarragona, which has caused several injuries and considerable damage. I have contacted the president of the Generalitat to offer him the necessary support."
Permanecemos muy atentos a las informaciones que nos llegan sobre el incendio en un polígono petroquímico de La Canonja, en Tarragona, que ha provocado varios heridos y cuantiosos daños. He contactado con el president de la Generalitat para ofrecerle el apoyo que sea necesario. https://t.co/fYxvBAcfME

— Pedro Sánchez (@sanchezcastejon) January 14, 2020