Over the last 24 hours, Britain has been bombarded with rain and 80mph winds, courtesy of Storm Brendan.
The weather conditions that big Brendan has delivered the UK caused for several flights to be diverted, as well as leaving thousands of people without any power. Worryingly, forecasters have predicted that we are yet to experience the worst of the storm – today is expected to bring further torrential rain and stronger gales.
Gatwick Aiport was forced to redirect seven different flights in the UK on Monday evening, due to the extreme winds hitting West Sussex. An EasyJet flight from Edinburgh to Gatwick was diverted to land at Birmingham. Meanwhile, four further EasyJet flights, two Wizz Air flights and one Norwegian Air flight were also diverted.
The Met Office has warned that Tuesday afternoon could see the airport experiencing stronger gusts, after being 'blustery' overnight.
The Wizz Air flight could be seen circling Gatwick, before eventually heading north – via flight tracking website 'flightradar24.'
An EasyJet spokesman said, "We can confirm that as a result of adverse weather conditions affecting the UK this evening, like all airlines, we are experiencing some disruption to our flying programme."
"We would like to reassure passengers that we will do everything possible to minimise the impact of the disruption."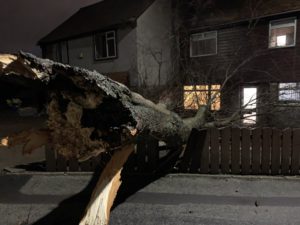 As Storm Brendan arrived at the UK's door in the early evening of Monday, an estimated 48,000 homes and businesses were left without power for the evening. Northern Ireland also reported some power outages.
The strongest winds recorded on Monday were 87mph on South Uist in the Outer Hebrides, and a 76mph gust in Capel Curig, north west Wales.
A lorry on the A704 was toppled by the conditions. In addition, a deceased dolphin was washed onto shore near Chisel Beach as large waves were being formed by the wind.
A spokesman for AA Roadwatch said, "Particular caution is advised on the coasts: a status red marine warning for gales is in place for all coastal waters, with a significant risk of coastal flooding."
"Watch out for wind-blown debris on the roads, and give extra space to vulnerable road users like pedestrians, cyclists and motorcyclists. Strong cross-winds may affect control of your vehicle so slow down. Only drive through standing water if you're sure it's not too deep for your car."
Weather warnings have been set for the following 2 days by the Met Office. The western half of the UK are set to experience the worst of the winds.
(Images: Twitter)