THERE is still no trace of a pensioner who went missing more than two weeks ago in Velez-Rubio.
Francisco Martinez Diaz, 68, was last seen on December 30 when he left his home in Lorca to go hunting in the Los Velez area.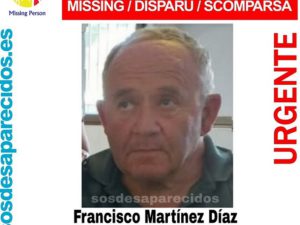 A Guardia Civil search team, along with Civil Protection, Levante Consortium firefighters, the Andalucia INFOCA wildfire firefighting service and Local Police from several municipalities have been combing the Los Velez and Almanzora valley regions and along the borders with Granada and Murcia, by land and by air, even using drones. They have been joined by volunteers and Francisco's family members.
This week efforts to find the 68-year old have concentrated on the mountains of Oria in the Almanzora from where the last signal from Francisco's mobile was picked up.
The Asociacion SOS Desaparecidos for missing people has posted an appeal to help find Francisco on Twitter, in which it describes him as 1.65 metres tall, thickset, balding, with brown hair and brown eyes.
He was wearing a blue shirt and a grey jacket when he disappeared and was driving a grey Mitsubishi Montero with the number plate 4049HHR
Anyone who thinks they may have information about Francisco's whereabouts is asked to call 642 650 775 or 649 952 957 or email [email protected], or to contact the Guardia Civil, the 112 Emergencias Andalucia number or the police.