#ultimahora un parque construido sobre un parquin se ha hundió en Nueva montaña cerca del centro comercial.. Calle Tomás y Valiente #Santander #Cantabria pic.twitter.com/Eb3z7Eebuz

— Beni (@B_cuevas) January 13, 2020
Following from earlier breaking news reported by Euro Weekly News of an underground car park which collapsed earlier this morning in Santander – Spain, it is believed that there was "nobody" in the garages at the time of the event.
The mayor of Santander, Gema Igual, has explained in a statement that the residents of the urbanization where the park is located were collaborating with the operation to collect data and inform if anyone was missing.
"So far no one has reported that there was anyone in the garage and no one has been reported missing" Igual informed local media.
Gema Igual went on to thank the community members for their work in "collecting" data and for their help aiding the emergency personnel deployed to the scene.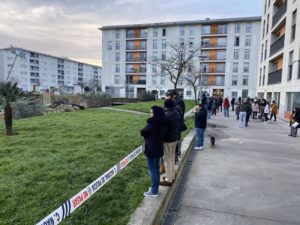 The Cantabrian Housing Minister, José Luis Gochicoa, has indicated that though he awaits the official report from the technicians in regards to the causes of the collapsed ground, he believes that, in principle, it could have been due to the "weight" of the land, which has increased as a result of the rain that has fallen in recent months.
The incident has caused a children's playground together with a small sports court to cave in on an underground car park that was situated below. The car park was constructed some 14 years ago by the Cantabrian Government's company Gesvican.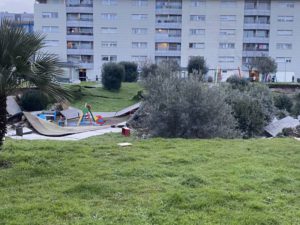 Despite the dramatic depression in the ground, it has not lead to the eviction of any of the surrounding houses, as the structure of the car park is different from that of the nearby buildings.
The search inside the garage has been undertaken with the aid of search dogs and the use of a drone.