A 15-year-old schoolboy is seriously injured and is undergoing an operation after being stabbed with a pair of scissors by a fellow pupil on Spain's Costa del Sol.
He was taken by helicopter to Antequera Hospital where his prognosis is reserved, according to health sources.
The events took place this morning at the Camilo José Cela Institute in Campillos. Emergency 112 Andalusia has confirmed that, around 10.40 am they received a call reporting an attack.
Local Police, Guardia Civil and the health services all attended the scene.
Police sources say that the case has been placed in the hands of the Prosecutor's Office for Minors.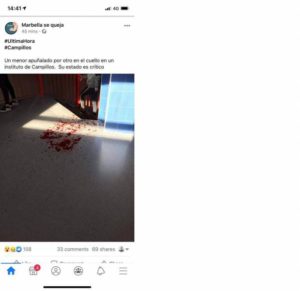 Both the alleged aggressor and the victim are 15 years old and were not in the same class. According to health sources, the assaulted person has a reserved prognosis, that is to say, his condition is serious and his chances of recovery depend on how well surgery goes and the next few hours.