As the Union Jack flag is broadcast around the world lit on fire in Tehran, Spain's British expat community are horrified.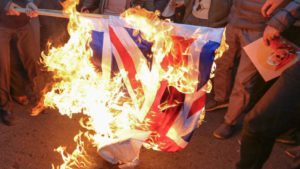 It comes as members of Iran's Basij militia, gathered outside the UK embassy in Tehran demanding it be closed, after the arrest earlier over the weekend of the British Ambassador who has now been released.
Mass demonstrations are taking place outside the British Embassy, with chants of " kill the British" loudly heard as many flags were set alight.
Banners and placards are also being held aloft damming British people which has caused fury amongst expats residing in Spain.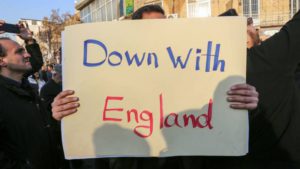 Michael Morris a former political correspondent from Malaga told the Euro Weekly News, "These type of actions stir up hate and British expats in Spain are not best pleased, tensions are rising in Spain, we live in a multi cultural society including Iranian people and business owners, what people need to remember is that the average Iranian person does not believe in these actions and us British expats need to remember that"
" I spent a lot of time in Iran during my working life and the average person in Iran is of lovely nature, they are suppressed and poor people as their government fund other countries like Iraq before their own people, whilst Brits as we know can be very patriotic"
The call from Michael comes as several Iranians residing in Spain have been verbally abused in the streets or outside their business operations over the last 48 hours since the flag burning incidents.
An Iranian bar owner in Fuengirola Spain who wished to remain unnamed told us " I have a bar 4 doors down from a British bar, since the scenes appeared on the TV people have been shouting abuse at me from there, I can't blame them despite the abuse, the demonstrators at home should not be acting in this manner – it's not our fault here, we are peace loving people, we don't want or need this, I have enough worries about my two brothers who are still in Tehran, please please remember it's the governments and military not the normal people who are provoking the issues"