Residents the Costa Blanca are fighting for the freedom of linguistic choice in educational centres. A new law approved in 2018 would banish Spanish from classrooms and force children to take all of their classes in Valencian. The worrying measure -that would come into effect in the new school year in 2020- has seen heavy backlash from concerned families.
Many expat families have young children studying in Valencian schools. These children don't speak the region's language fluently and would struggle enormously if all classes were imparted in Valencian. In addition, a big percentage of teachers don't dominate the language and have expressed their concern over the matter. Parents believe that forcing Valencian on children and teachers alike is highly discriminating and assure that the law would be detrimental to education.
Protests in Vega Baja are heating up and a region-wide demonstration has been organised for Saturday, January 18. Orihuela will be host to the focal point of the protests, which will also be held in other municipalities including Elda, Elche, Alicante, Villena and Villajoyosa.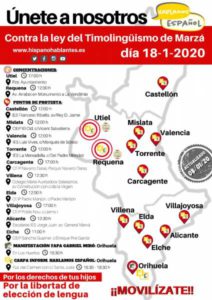 The association 'Hablamos español' (we speak Spanish) has also joined the crusade against 'linguistic imposition' that demands respect for the co-officiality of both the Spanish and Valencian language. Spokeswoman of the national organisation, Gloria Lago, explained that all official languages should be respected in public sectors. She confirmed that a bus had been chartered to support the protest in Orihuela and an information tent would be set up in Plaza del Carmen.
Hablamos Español is a big advocate for respecting the decision of parents who prefer their children to be educated in Spanish versus Valencian. Furthermore, parents worry that their children aren't fluent in Valencian and highlight the fact that they wouldn't be able to help with daily tasks including helping with homework.