Hundreds of Londoners have stripped down to their lower garments and taken to the London Underground to celebrate the annual "No Trousers Tube Ride".
Sunday's event started at Chinatown, with people arriving in full clothing before following the signal to strip off and take to the Tube stations. Participants were split into groups, travelling around town in an effort to help people banish their January blues.
They later returned to O'Neils in Soho for an after-party. Spirits were high this year, with one person posting a group dance among participants at Waterloo station. The capital's No Trousers Tube Ride originates from the "No Pants Subway Ride", which began as a small prank in New York in 2002. It has since expanded to more than 60 cities around the world, including Berlin, Lisbon and Toronto. Thats a point, do they do it in Spain? mmm let me know if they do please.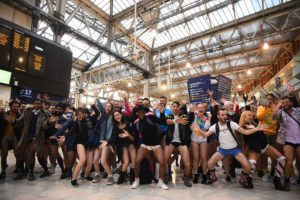 Organisers of London event were careful to warn people not to remove more clothes than are appropriate. They stated on the events Facebook page that they "want the event to be fun and safe for everyone for many more years to come" and "anybody found to be removing more than their trousers, or acting out personal fantasies in public, will be reported to the British Transport Police, and station authorities and possibly appear in the latest edition of the EWN." ok, i added that bit:)
TW