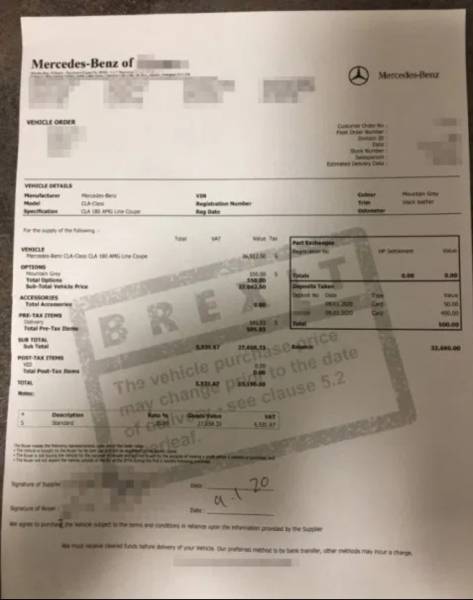 A Brexit disclaimer was stamped onto an invoice after a man ordered his new Mercedes, leaving him in the dark on how much he will have to pay for it.
John Hamill, 65, placed down a £500 deposit for his new vehicle. Upon receiving the invoice, he noticed a large Brexit stamp splattered across the front – informing him that the price could change at any time up to the delivery date. This is due to the potential of a customs duty tariff being placed on cars imported into the UK, post Brexit.
Hamill, a company director from Hamilton, Scotland, was NOT notified about the potential price alteration before parting ways with the £500 deposit. He further claims that staff were not able to provide him with an expected date of delivery – meaning the final price might not be revealed until May of this year.
Hamill told Metro.co.uk, "I ordered the car, I paid the £500 deposit and then they handed me the invoice – and that's when I found out the price I'll finally be paying is actually unknown. You couldn't miss the big stamp."
"They couldn't give me an estimate of how much the price could go up by because they don't know what's happening. Normally it would be delivered at the end of March. They're saying it could be April or May. So not only do we not know the price, we don't know the delivery day. They'd usually be able to tell you but they can't even do that."
It is expected that numerous car manufacturers will be following suit, by notifying customers of potential pricing changes in an attempt to protect profit margins.
Society of Motor Manufacturers and Traders CEO Mike Hawes stated, "UK car production is export-led, so we look forward to working with the new government to deliver an ambitious trade deal with the EU. That deal needs to be tariff-free and avoid barriers to trade, which, for automotive, means that our standards must be aligned."
Images: John Hamill