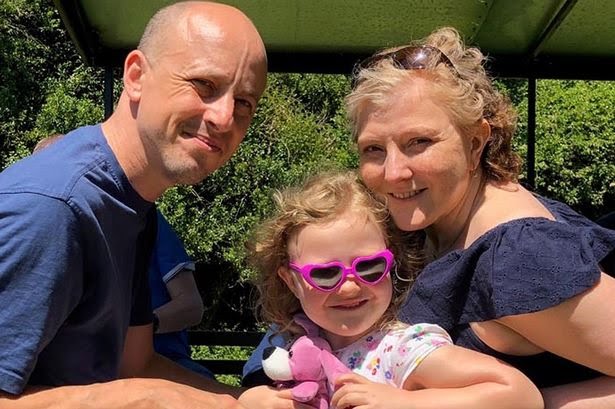 Sam Rudland and Amy Watts were set to be married on April 3rd 2019 after Sam had received a heart transplant. However, Amy lost her battle with cancer two days prior to their wedding date.
Sam Rudland was informed that he would not make it to the age of 35. He had been diagnosed with a serious heart condition at 18, called Friedreich's Ataxia – which results in a thickening of the heart muscle. Upon receiving the news, Sam was keen to live his life with excitement. He was thrilled to have met Amy Watts in 2012 through a dating app online.
Daughter, Esmee, was later born in December 2013, after the couple fell madly in love. However, Sam's health problems continue to be an issue, and he was regularly required to be admitted into hospital.
The couple were dealt an unimaginable blow, with Amy discovering a lump in her breast in February 2016. She was diagnosed with cancer. The couple were understandably fearful that they would end up leaving their daughter without parents. To their relief, Sam's health had improved to the point where he was able to receive a heart transplant.
Traumatically, Amy was informed that her cancer was terminal, after her health had worsened in February 2019. This gave them the incentive to bring their wedding forward, with Amy's cancer continuing to spread. She was admitted to a hospice and the date set was April 3rd, with several guests set to attend.
Sam and Esmee were heartbroken as mother and fiancee Amy sadly passed away two days before her wedding day. Sam has said, "Amy was an incredible mum to Esmee, who is the most precious, amazing little girl. It is a very cruel twist of fate that she so badly wanted to be a mum, then had it snatched away."
"We probably had two good years together which weren't plagued by illness. They were as close to perfect as you could expect."
"Esmee has wonderful memories of Amy, but I worry they'll fade. She's come so close to losing both parents, it doesn't bear thinking about."
Amy was cremated on April 24th. Emotionally, she was dressed in her white lace-necked bridal gown. Sam has since said his daughter Esmee is "his reason for living." He also stated, "She has been a complete rock, she misses her mum so much, but we talk about her all the time and have a shelf with pictures of Amy on it."
Amy's mother is currently living close by the Sam and Esmee, incase he experiences further issues with his heart condition.