THE Andalucia Japanese Sword squad was in action in Mojacar at the weekend.
In all 20 swords people from as far afield as Granada, Cordoba, Malaga and Almeria took part in the training session at the Nexa sport facility on Saturday, many them members of the Spanish National Iaido sword team.
Welcoming the squad to Mojacar were Mojacar Tourism councillor Emmanuel Agüero Leclerc and Sports councillor Ana Garcia Fernandez.
There was also considerable interest from the public, who could view the proceedings from the seating gallery.
The event was led by Karl Gibbons 5th Dan, a former UK team manager and coach to European and UK gold medallists, who is a regular winter visitor to Mojacar from the UK.
"This has been a very enjoyable experience. I was very impressed with the dedication and effort put in by everybody who attended", Karl commented.
"Mojacar is a great venue", he added, revealing he is hoping to organise a joint training camp next year between the Andalucian squad and the British Midlands-based Mercian Sword group.
Javier Tirado Contreras 3rd Dan, who is responsible for the Andalucia Iaido team, as well as being a member of the Spanish national team and a European gold medallist, said he was "delighted with the development of our regional team.
"Thanks to the town's support, the technical direction of Karl Gibbons and every Andalucian clubs' effort, the Andalusian laido squad has a bright future in front of them."
The success of the event means the Andalucian sword squad will now make Mojacar their 'home', Karl told the Euro Weekly News, and will train here every other month.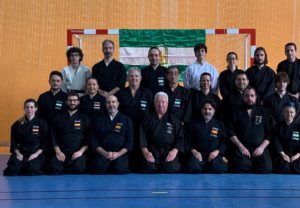 The next event, which is due to be held in March, should be "very exciting" Karl promised as there will be competitions to decide who will be selected to represent Andalucia at the Spanish national championships this year.