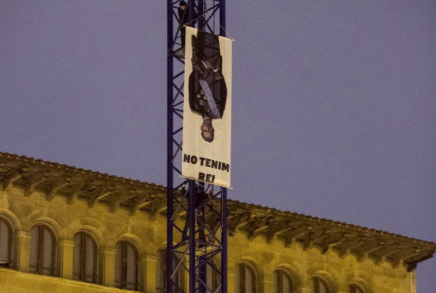 THE Mossos d'Esquadra police force have confirmed that they have removed an 'offensive' poster of Spain's King Felipe VI in Barcelona.
The banner had been hoisted high into the air on a crane in Plaza Mayor in the Catalonian capital on Saturday night (January 11) by a group of hooded men. An upside down image of the King was adorned on the poster with the slogan 'We have no King.'
Footage of the banner being put up was shared across social media, where the Catalan National Assembly (ANC) soon took responsibility for the act to condemn the King and Pedro Sanchez's government.
Vic, 11 de Gener de 2020 pic.twitter.com/jMP2htXARQ

— Rosa P B🎗️ 🌊#FemXarxa 🎗️🌊 No tinc Por (@rosabass) January 11, 2020



In order to remove the banner, the Mossos d'Esquadra required authorisation from the Prosecutor's Office, where once approved, the banner was then taken down.
Euro Weekly News understands that the police are now actively looking to bring charges against those who put the poster up.
Vic s'ha despertat amb una nova pancarta a la Plaça Major amb el lema 'NO TENIM REI'#osona pic.twitter.com/EyKEcVfnau

— ANC Osona (@AssembleaOsona) January 11, 2020