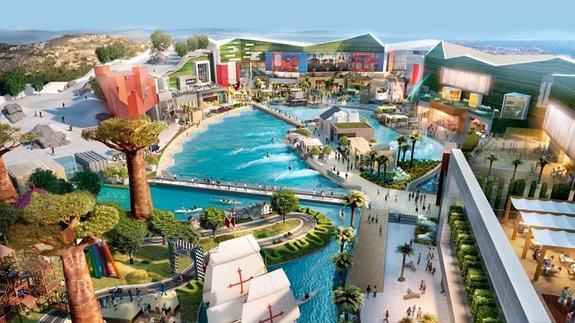 TORREMOLINOS now has a free hand to begin one of the greatest transformations in its history.
The Official Gazette of the Andalusian Regional Government (BOJA) published this Saturday the General Plan for Urban Development (PGOU), which unblocks the start of work on the commercial and leisure park that Intu plans to build to the north of the Conference Centre.
The document contemplates a growth of almost 6,000 dwellings that will result in an increase of more than 13,000 residents, according to the forecasts of the Town Council. This figure would give Torremolinos the status of a city with a large population, which on paper has some 68,000 inhabitants, a figure that is actually tripled by the floating population that makes up the million visitors it receives each year.
The publication of the general plan puts an end to more than a decade of administrative battles and represents a legal guarantee for new investments after the last PGOU, which dates back to 1996, became obsolete years ago.
The change with the greatest impact on the Torremolinos plan will come from Intu, the British developer who is planning a 235,000 square metre complex. As of this Saturday, the City Council can now grant licences for the work to begin. The economic situation of the company, which is selling its shopping centres in Spain to cushion its stock market crash after two failed takeover bids, is keeping the Torremolinos project in the air, although Intu insists that its plans on the Costa del Sol are continuing. The developer has awarded the initial works, budgeted at €160 million, to a joint venture formed by Dragados and Sando, as well as reaching agreements with some of the future operators of the complex, such as Yelmo and Gran Teatro Bankia.
The direct investment planned by Intu for this commercial and leisure park, which will include a wave pool, an auditorium and a hotel, among other facilities, exceeds €800 million. With the construction licences that the council can already grant, the project will be revalued in case the developer wants to sell it – although the British company has not stated that it wants to do so.
The PGOU also contemplates the construction of a park with bicycle lanes and paths in the mountains and will allow the development of several areas of the town.
The plan, which has been drawn up and prepared entirely with municipal funds, rules out construction in the mountains, as envisaged in the previous superceded PGOU.
The passing of the PGOU comes as a relief to Torremolinos. Over the past 15 years the Andalucian government has rejected five previous plans for failing to comply with environmental and water regulations, obstacles that were overcome in the previous legislature.