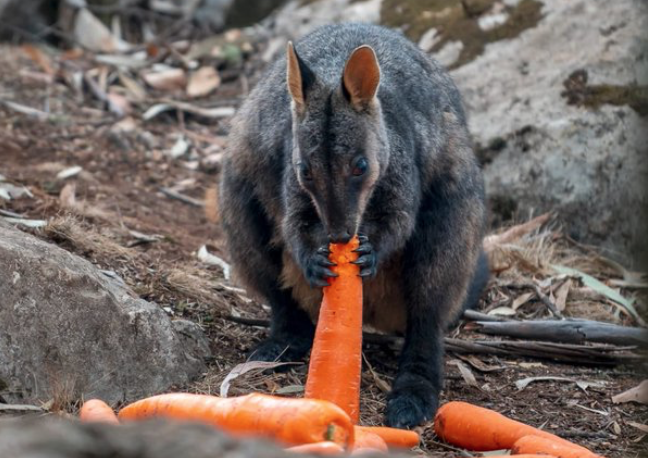 IN the wake of the devastating news that an estimated 1 billion animals have been killed in the ravaging Australian bushfires, the actions of relief efforts provide little joy in such tragic circumstances.
Today (January 12), 2,000kg of vegetables were dropped from a helicopter across New South Wales to feed the countless number of animals who are stranded and starved in the Capertree and Wolgan Valleys, Yengo National Park, the Kangaroo Valley, and around Jenolan, Oxley Wild Rivers and Curracubundi National Parks.
In an the face of adversity, the operation was mounted by the Department of Environment for NSW, where carrots and sweet potatoes were thrown from the sky to help wildlife displaced from the catastrophic bushfires.
Thousands of kilograms of carrots and sweet potato are being delivered to endangered Brush-tailed Rock-wallabies in fire affected areas as the NSW Government steps in to help. #9News pic.twitter.com/Vw3SnMUejL

— Nine News Sydney (@9NewsSyd) January 12, 2020



Minister Matt Kean explained that the animals were stranded with limited food supply after the fire destroyed the vegetation around them. He also stated that NSW National Parks and Wildlife Services have deployed an operation named 'Rock Wallaby' to help preserve the state's marsupial population, where they would be keeping a close eye on the wallabies.
One happy customer 🦘🥕🥕🥕🥕#operationrockwallaby #AustralianFires pic.twitter.com/wtzMgeaX6D

— Matt Kean MP (@Matt_KeanMP) January 11, 2020
The species were already under threat from the ongoing drought, making survival challenging for the wallabies without assistance. The operation will now use cameras to monitor their uptake of food and population numbers.
Fuelled by record-breaking temperatures and months of severe drought, the bushfires have burned more than 24.7 million acres of land. In addition to the alarming number of deaths of animals, including thousands of koalas, kangaroos, wallabies, gliders, potoroos, cockatoos and honeyeaters, dozens of people have died and more than 2,000 homes have been destroyed.
The devastating bushfires has gained the international media's spotlight, where a fundraiser for fire services in New South Wales raised more than $20 million AUD in 48 hours to support the brave firefighters who continue to risk their lives.