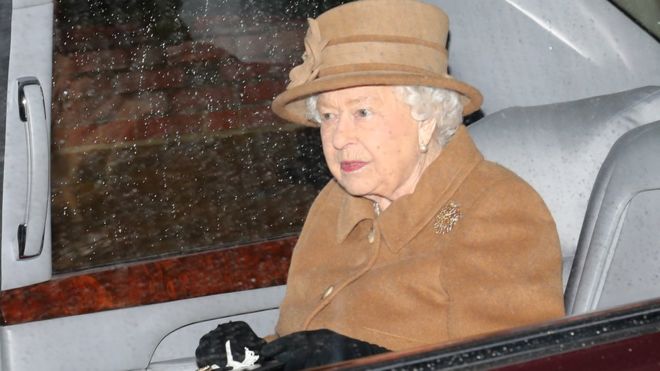 The Queen looked sad and distant as she joined other family members at the Sunday Service today.
Crowds of well-wishers were gathered to offer their support as she arrived at the St Mary Magdalene Church on her private Norfolk estate.
"her heart 'must be really broken", commented one royal fan as the Queen walked into the church, close to where she will hold a crisis meeting in Sandringham tomorrow. The Queen, together with Harry, William, and Charles will try to find a 'workable solution' to the issue and decide on the 'next steps'.
Her Majesty wore a camel-coloured coat and hat, decorated with feathers which bore the colours of the Omani flag, perhaps to pay tribute to her 'good friend' Sultan Qaboos bin Said following his death yesterday. Prince had flown to Oman earlier, representing the Royal Family whilst Boris Johnson, also present, represented the British Government.
Among those in attendance was Princess Anne's son Peter Phillips, who arrived on foot as the Queen pulled up in the back of a chauffeur-driven royal vehicle. When the Queen's oldest grandson was asked how she was doing, he responded that she was 'alright'. As she drove away following the service, the crowds cheered her on and applauded her in solidarity, understanding the weight of the discussions she will face tomorrow.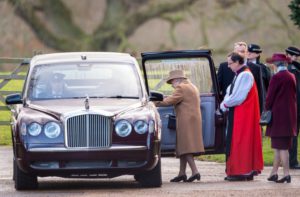 Many in the crowd offered their opinions on the matter and said they felt empathy for the Queen, as they queued to get a glimpse of the Monarch. Jean Acton, 70, from Fakenham, said of Harry and Meghan: 'I think they should give any monies back. You can't have your cake and eat it. I just think they've done the dirty on the Queen.' Speaking about the Monarch, she said: 'I feel desperately sorry for her. It must be horrible. For any parent. Let alone if you're a royal or not.'