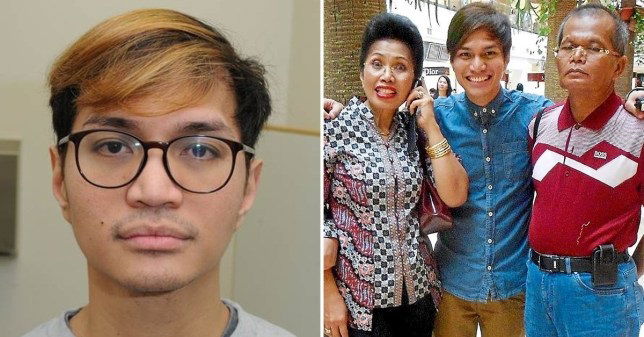 The mother of Britain's most prolific rapist has said she still sees him as 'my baby' and did not even know her son was gay.
Normawati, from Depok, a city within the Jakarta metropolitan area of Indonesia, said she visited her son in Strangeways prison in June 2019 and asked him: "Why did you keep those videos and pictures on your mobile phone?"
He told her that he 'liked to do it,' adding: "It was my documentary."
Reynhard Sinaga – who was jailed for 30 years this week for abusing nearly 200 victims – was financed throughout his studies in the UK since 2007 by his wealthy Indonesian family, even though his mother desperately wanted him to return to help run their palm oil business.
But the student, 36, refused, and instead pursued his perverted desires and sexually violated at least 48 men at his flat in Manchester city centre. Police believe he may have abused at least 195 males in total, which would make him one of the most prolific rapists in world history.
She described how she flew over to visit her son in hospital following his arrest in 2017, after his final victim regained consciousness during his ordeal and beat up Sinaga. Mrs Sinaga said: 'Imagine a small Indonesian man being beaten up by a big, tall westerner. I wondered if the other person had made up the story.' She added that her son was a 'quiet boy' who went to church in Indonesia every Sunday morning where she encouraged him to play the piano.
His mother explained that said she begged him to return to his home country but he told her he wanted to follow his ambition of becoming a lecturer. She added: 'He said Indonesia was not a good place to live for him and he felt comfortable living in Manchester.'
Even now, despite his convictions, Sinaga still denies any wrongdoing. He claims that each of his victims was a willing participant in a sex game and that the people he drugged, raped and sexually assaulted were in fact 'bicurious'.
Sinaga claimed they had all pretended to be asleep as part of his sexual fantasy and agreed to be filmed. On Monday, he was handed a life sentence, with a minimum of 30 years, at Manchester Crown Court.