Tasnim News Agency has reported that the diplomat was detained for several hours and accused of inciting protesters at Amir Akabir University.
The British ambassador in Tehran, Robert Macaire, was arrested by security forces "amongst protesters". According to these reports, the Iranian foreign ministry intervened and Macaire was released after a few hours.
Tasnim News Agency affiliated with Revolutionary Guard claimed that the British ambassador was arrested for "instigating and organizing suspicious activities in front of Amir Kabir University".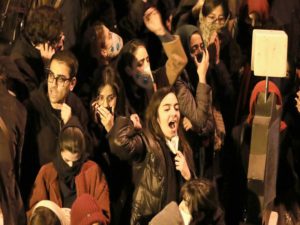 At the time, a large protest rally was underway, he will be summoned to the foreign ministry tomorrow for further investigation. Tasnim also claimed that a "shop opposite Amir Kabir University was the main place" for the British ambassador's purported activities.
Criticizing the foreign ministry for intervening to free the British ambassador a hardliner Twitter user tweeted: "Do we have a foreign ministry or a British Interests Section?" and posted a photo of the British ambassador allegedly showing Macaire after being detained.
Rahbord-e Moaser, a hardliner website, said the reason for Macaire's arrest was "instigating the crowd and taking photos of the protest".