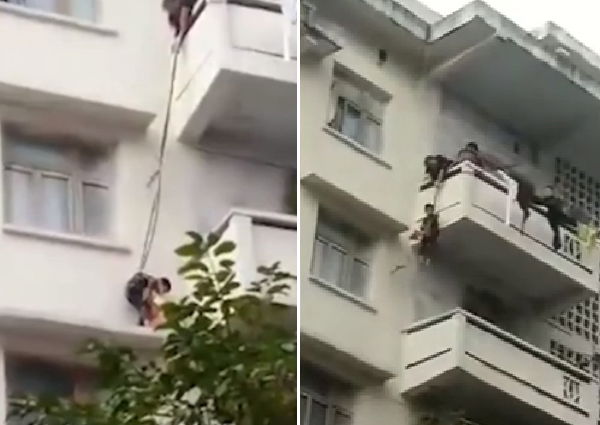 SHOCK was felt across Spain this week as a video emerged of a little girl walking along the ledge of a multi-storey building in Tenerife. At the hands of death, footage of the terrifying incident went viral across the country, where many were outraged that such a young child had been left without parental care.
However, another video has made its way on social media, alarming people far and wide that another child was in the clutches of death on the side of a building.
The video shows a seven year old boy being summoned by his grandmother to rescue the family's cat on a ledge five stories high in Nanchong, China. Dangling on a makeshift rope, the little boy attempts to rescue the animal and put it into a bag, where family members then hoist him up onto their balcony.
Social media users have voiced their outrage on the incident, condemning the actions of the adults who were entrusted with caring for the boy. One said: "There are many other ways to do something like this, why did you choose the most dangerous way to do it?"
Another stated "What terrible parents", with a user also questioning how a "cat was considered more important than a child's life."
As Euro Weekly News understands, since the video has gone viral the grandmother of the little boy has spoken to the local press in China. She ensures that she cares for her grandson however made a "made a mistake and will not do it again."