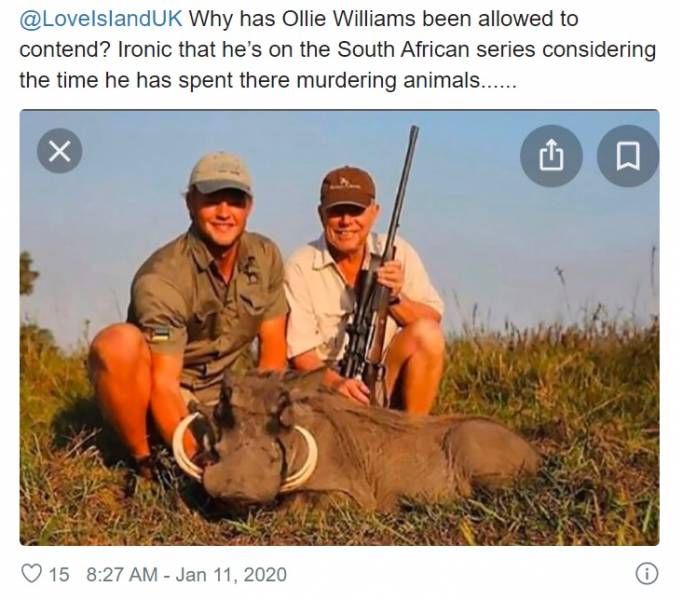 Love Island fans were left disgusted after it was claimed winter hopeful Ollie Williams Instagram account showed him standing over a dead animal.
Ollie, 23, is the heir to the Lanhydrock estate in Cornwall, worth an enormous £15 million, is the director of a hunting business called Cornish Sporting Agency. In the now-deleted images, Ollie could be seen posing with animals he had killed along with clients who had reportedly signed up for 'tailor-made hunting trips to South Africa and other destinations'.
One of the photos from the now-deleted Instagram account was captioned: 'You've gotta love it when you put your binos up and see a bull like this on the other end! 'Another happy client with his awesome eland bull! Enquire on the website today!' Elands – a type of antelope – are listed as vulnerable by the International Union for Conservation of Nature.
A source close to Ollie denied that he was hunting for sport, saying: 'It is categorically untrue to suggest Ollie is involved in hunting for sport. Ollie is a passionate conservationist and worked with an anti-poaching unit in Mozambique.
'Conservation is crucial to the survival of animals and as part of that work Ollie was involved in the culling of sick animals who were a threat to the health of the herd. 'There is a very big and important difference between trophy hunting and the conversation work Ollie has previously been involved in.
At no point has Ollie organised or booked anybody to go to Africa to shoot game.' The Instagram account had been deleted before it was announced Ollie would go on Love Island's first winter edition, and his company's website was taken offline in November 2018.