Dubai International Airport (DXB), one of the busiest airports in the world, is facing long delays and cancelled flights after severe rainfall.
The United Arab Emirates is facing storms of an enormous scale this weekend. The heavy showers have resulted in monstrous floods consuming public roads and vital areas of the DXB. There have been reports of water covering entire floors of Terminal 1 inside the middle eastern flight hub.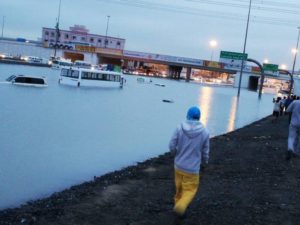 Flooding consuming the public roads has expectedly resulted in vast amounts of congestion across the UAE, with the majority of the nation being advised to take extreme caution following a Red Weather Warning being ordered. Police in Ras Al Khaimah were forced to close the Jebel Jais road due to unstable weather as the storms arrived at the scene on Thursday.
The weekend for the UAE may even become even stranger; if the predictions by the National Centre of Meteorology are to be found correct. Despite their prediction that the rainfall could ease off by Sunday afternoon, they expect that the plummeting temperatures will cause a mixture of snowfall and hail storms to the mountainous regions of the UAE.
The launch of the highly anticipated 10 day cultural festival – Al Shindagha Days – designed to revive popularity towards Dubai's historic areas, was abandoned on Friday as the initial storms were mounting their assault on the region. This will come as a huge blow to the locals, as the Al Shindagha neighbourhood had been heavily renovated in preparation for the festival's first outing.
Delays to both road and air travel are expected to continue over the remainder of the weekend.