Neil Peart, whose drum theatrics fueled the Canadian rock trio Rush to international fame, died Friday in Santa Monica after a long battle with brain cancer. He was 67. His longtime bandmates Geddy Lee and Alexson confirmed the news on social media.
Peart passed away in Santa Monica. The family says he'd been diagnosed with brain cancer 3 years ago, but hadn't announced it to Rush's legion of fans around the world.
He wrote the lyrics to most of Rush's songs and was considered among the greatest drummers in rock 'n' roll history. Known for his wild fills, massive drum kit and steely onstage demeanor. "The Professor" joined bassist Lee and guitarist Lifeson in Rush after its first album, and the band would go one to sell millions of records worldwide. He retired from the group after it played its final show on August 1, 2015, at the Forum in Inglewood, CA.
The band took to twitter to release the news to their fans…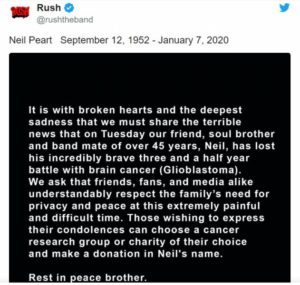 Rush is a staple of classic rock radio with such enduring songs as "Tom Sawyer," "The Spirit of Radio," "Limelight," "Freewill," "Subdivisions," "Closer to the Heart" and "New World Man" — all fueled by Peart's drumming and lyrics. The group was most popular during the 1980s, when it released eight consecutive albums that reached the top 10 on the Billboard 200.
Family Tragedies
On Aug. 10, 1997, Peart's first daughter and then-only child, 19-year-old Selena Taylor, was killed in a single-car accident while driving to university in Toronto. Just months later, Peart's common-law wife, Jackie, was diagnosed with terminal cancer and later died.
Peart told his fellow Rush band-mates on the day of his daughter's funeral they should "consider me retired."
He would later go on a 14-month motorcycle trip across North America, through Mexico to Belize and back, chronicling the journey in his book, Ghost Rider: Travels on the Healing Road, before rejoining the band.