This week Celebrity Chef & Fellow Master Chef Steven Saunders, proprietor of The Little Geranium in La Cala shares one of his Royal dishes with us…
WE had a great New Year's celebration at The Little Geranium, seeing in the new decade and leaving the old one behind us.
It was a small intimate and exclusive evening essential for creating world class food! By that I mean I have had many disappointing New Year's evenings with expensive mediocre food and panicked service.
This year we opened for the first time and I wanted to make a statement! I cooked an eight-course tasting menu for 24 people using the best ingredients that I could get hold of: home stone baked breads, Spanish lobsters, Russian caviar, hand dived scallops, home smoked salmon, Galician beef, sousvide wild duckling, black pudding from Asturiana, organic foie gras, fresh black truffles, espuma of Belgian chocolate with gold leaf and handmade Galician cheeses.
We added every little attention to detail and treated our clients to a culinary tour de force, one client wrote, 'it really was a Champions League dinner.' I only wished I could have been sitting on the other side rather than slaving away on the stove!
It was a masked dinner and Michele my wife ordered the masks from Venice. The fish course was lobster, scallops and black truffles cooked in pastry. It's a dish that dates back in time for me having cooked it for the Royal Family in the 90's but I have recently reinvented it because everyone tells me, that it's the best thing that they have ever eaten.
Reinventing is something that I enjoy doing because, what comes around goes around, and as you get older you realise that is so true.
It is true with food, fashion, wines, music and almost everything except technology. We depend on technology advancing and even when I am cooking I ask Siri to set my timer to 4 ½ minutes for example, it's a lot easier than scrolling through the phone to set the timer.
Everything that is cooking in my kitchen is on a timer. You can hear the bleep going off for the bread, the gong going off for the smoker, the bleep bleep going off for the duck in the sousvide machine, the jingly alarm going off for the Galician beef and Siri's phone alarm going off for the scallop and lobster baked in pastry.
It's like a tune in its own right playing in my kitchen and if I am in a happy mood I sing along with the electronic sounds! Singing is something that I love to do and in the 90's I had a hit song called Crying Tonight.
My friends and family soon called it Frying tonight or as my older brother said when he heard it, we were all crying every night as it was so bad!
If you fancy a giggle you can find the song and me singing it on a live TV show on YouTube under my name.
Steven Saunders's opinions are his own and are not necessarily representative of those of the publishers, advertisers or sponsors.
---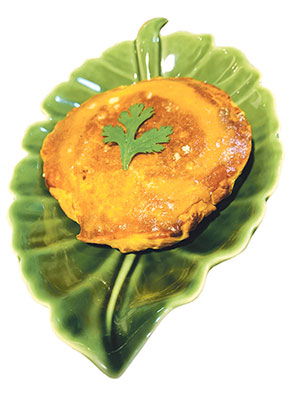 Lobster and Scallop baked with truffles in pastry
This week the recipe I am sharing with you is my fantastic lobster and scallop New Year's Eve dish, talking of crying… the clients were crying when they finished the dish as it is such an amazing course!
Ingredients for four
2 freshly cooked lobsters each weighing approx. 600-700g
4 large scallops in their own shells
1 heaped tablespoon of grated Gruyere or Parmesan cheese
250g approx of puff pastry made with butter
1 large leek washed and finely shredded
1 clove garlic peeled, crushed and finely chopped with two tablespoons of olive oil mixed to make a garlic oil
Juice of half a lemon
2 egg yolks for glazing pastry
Maldon salt and white pepper
For Truffle sauce
50g salted butter
250 ml of fresh thick cream
1 small onion peeled and chopped finely
2 cloves garlic peeled and chopped
2 heaped teaspoons of truffle pieces of shavings of fresh black truffle
½ glass of dry white wine
2 teaspoons truffle oil
Seasoning
Method
In a thick bottomed saucepan pour the white wine and warm it.
Now add the garlic, onion and finally the cream and cook out and reduce for five minutes on a medium heat.
Finally add the butter, stir in and then the truffle pieces, the truffle oil and taste and season.
Method for cooking the Lobster
If you are cooking your own lobster it is important to put the lobsters to sleep before cooking them by putting them in the freezer for about two hours. Cook them one at a time to maintain the heat of the water. When the water comes back to the boil leave for one minute and remove with a slotted spoon and immediately cool (shock) in ice cold water to stop the cooking.
Now that you have your cooked lobster cut them in half using a strong pair of kitchen scissors and then use a large knife to cut the tails into two halves. Remove the lobster body flesh and reserve. You don't have to use the claws for this recipe but you could use them for another day (they will freeze well when cooked).
To prepare the scallops
Remove the scallops carefully from the shells and remove the coral (roe) and wash the scallop carefully with a little cold water.
Wash and clean the shells thoroughly.
Get a frying pan hot without anything in it and then add the olive oil and seal the scallop meat on one side for 10/15 seconds, season well and reserve. (Keep the corals, cook and freeze them).
To construct dish
Fry the shredded leek and add a little butter, season well and add a little white wine, cook for two minutes so that the leeks are al dente. Spoon the leeks equally into the scallop shells.
Add the scallop to the shell seared side up.
Add the cooked tail of the lobster and dress with a little of the garlic oil and a squeeze of lemon juice.
Pour the truffle sauce carefully over the lobster and into each shell (about a spoon full).
Sprinkle the grated cheese over the lobster tail.
Cover each shell with a square of puff pastry (approx 15 cm).
Wrap the pastry carefully over the shells covering the scallop/ lobster and then trim afterwards squeezing the pastry to the shell so that it sticks.
Brush the pastry with the egg yolk.
Keep in fridge until needed.
To serve
Bake in a pre-heated oven 200ºC for 4½ minutes until a deep golden brown and then serve immediately.
Follow Steven on Instagram … saunderschef – Email any questions … [email protected]
The Little Geranium, Winner of Best Contemporary International Restaurant 2019-Costa Del Sol – www.thelittlegeranium.com