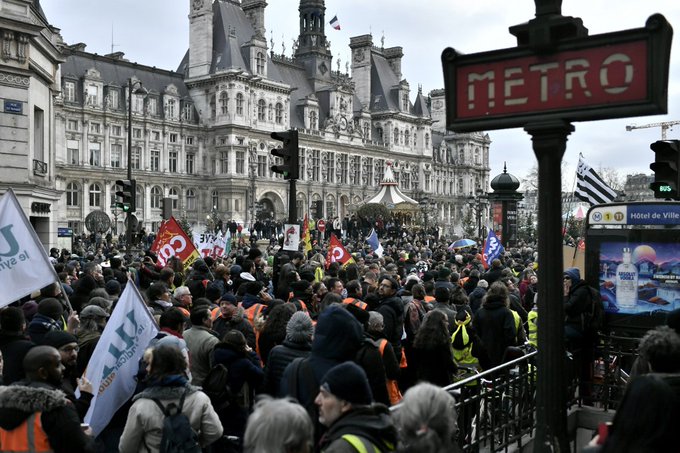 TALKS have restarted between the French government and striking workers, but the disruption continues and concerns grown in Spain that Spanish unions may follow France into a Pension battle.
The now longest continuous transport strikes in modern French history entered day 35 yesterday (Wednesday).
Industrial action against President Emmanuel Macron's planned pension reform has hit train services hardest. The French government says the changes are necessary to make the system fairer and more sustainable, but unions say workers will lose out.
The French president's new plan aims to reward employees for each day worked, earning points that would later be transferred into future pension benefits as well as raise the retirement age to 64.
The official retirement age in France has been raised in the last decade from 60 to 62, but remains one of the lowest among the OECD group of rich nations – in the UK, for example, the retirement age is 66 and in Spain a new reform, put into place this year, will gradually delay the retirement age to 67.
Spain who has started this year with pension reforms which seem to be severer than those proposed by the French government has led to growing concerns in the Spanish government that Spanish unions will use the initiative of the French unions and revolt as well.
Despite talks which have restarted between the French government and striking workers, the disruption continues.
Thousands of British and Spanish travellers have had their travel plans wrecked as the nationwide strike in France intensifies.
Travellers booked on the weekend overnight ski trains to the French Alps have been told they will need to leave work early on Friday 10 January and pay for an extra night in a hotel.
Thousands of airline passengers have been hit by a walk-out by air-traffic controllers.
British Airways has cancelled 12 flights between Heathrow and France: three round-trips to Toulouse, and return flights to Lyon, Marseilles and Nice.
BA has also axed a return service to Geneva and to Barcelona, because these pass through French airspace.
Toulouse is particularly badly affected, with easy Jet grounding a round trip from Gatwick.
International services like the Eurostar are also affected by the French strike. Eurostar has already published on its website a limited timetable running until January 12th, but nine out of 10 trains ran as usual on Wednesday.
As Euro Weekly News understands, passengers who want to switch to later days to avoid the risk of disruption may do so free of charge or receive a full refund.