A LEOPARD has suffered an abhorrent death at the hands of poachers in Sri Lanka after being killed with an explosive bait, where the animal's paws were then chopped off and its teeth were ripped out.
The shocking case of animal cruelty took place at Udawalawe National Park, which has caused international outrage largely due to the fact that in Sri Lanka there are a mere 10 leopards remaining in the wild.
The animal was stumbled upon at the side of a river by a wildlife photographer who was visiting the park, where they decided to take a picture of the mutilated animal to give visibility to the plight of endangered animals in the country.
It is strongly suspected that the majestic leopard was killed by a commonly used explosive bait, locally named as 'hakka patas'. These lethal and dangerous devices are made by mixing gun powder, lead and iron, which are then inserted into food. Attracted by their smell, animals will eat them, causing a devastating result.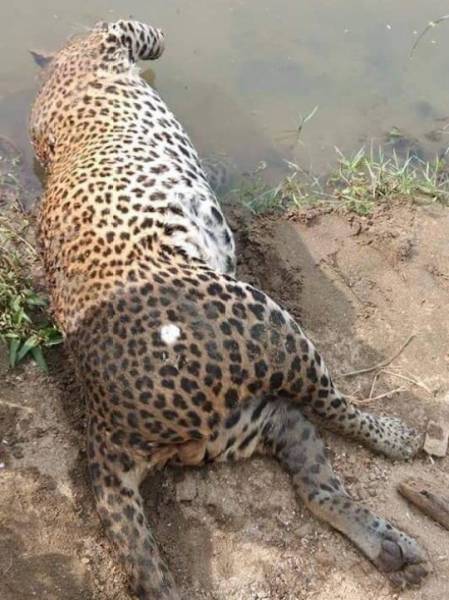 As Euro Weekly News understands, the Sri Lankan police have arrested four individuals on suspicion of poaching, however in recent years little has been done to cease hunters operating in the region. In response to the harrowing act of cruelty, MP Wimalaweera Dissanayake stated that although especially cruel, the image was extremely powerful as showed the problem the country is facing with poaching. He said:
"We are disappointed with the fact that we were not able to protect these animals, despite having sufficient laws in place to protect wildlife.
"We lack facilities and human resources to carry out operations to protect animals 'This was the same response I gave in the 1970s.
"Even after 50 years, I am saying the same thing. We must find a solution to this matter within the next few weeks."
The leopard is considered to be the most persecuted cat species in the world as well as being the most highly sought after animal by poachers. They are desired by hunters for their skin, teeth and nails, which are subsequently sold on the black market for their use in traditional medicine in Asia. As well as believed to treat ailments and diseases, leopards' body parts have become a symbol of modern wealth and tradition in many cultures across the world.