Was it Engine Failure or did a missile down the Jet, and why not give the company that manufactured the jet the black boxes?
Iran has flatly refused to hand over the crashed Ukrainian Boeing 737's black box to Boeing. Ali Abedzadeh, the civil aviation chief, added that he wasn't sure where he would send the box to analyze the data, Mehr added. Black boxes record flight data and audio from the cockpit and often provide valuable information on how plane crashes occur. Below is photo of the one of the black boxes from the doomed jet that an Iranian engineer tweeted.
Boeing has already faced heavy scrutiny in recent months over two plane crashes involving its 737 Max jet, both of which also took place shortly after take-off. The 737-800 and 737 Max are distinct models of the plane.
Also the type that crashed is an NG series which has also come under the spotlight from the FAA regarding premature Pickle Fork deterioration, which is basically a system of metal trusts that hold the fuselage onto the wings of the aircraft. It was found that the Pickle Forks, that were supposed to last for over 30,000 cycles-take offs and landings-started to show excessive wear after just 10,000 cycles. However, in this instance the plane that crashed seemed to have developed and engine problem, or at least that is what we are told!
Crash investigators had found one of the two so-called black boxes from the Boeing 737-800 that crashed near Tehran at about 6:20 a.m. on Wednesday, 176 people aboard the flight were killed.
Abedzadeh also said he wasn't sure where Iran would send the box to analyse the data. The flight, operated by Ukraine International Airlines, was scheduled to travel between Tehran and the Ukrainian capital, Kyiv.
The crashed Boeing 737-800 jet was just three years old and underwent scheduled maintenance checks on Monday, two days before the crash.
Data from the flight-tracking service FlightRadar 24 appeared to show the plane departing from Tehran, with communication being lost approximately three minutes later.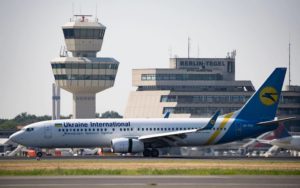 There has been speculation that the three-year-old plane, in which all 176 people on board were killed including three Britons, could have been downed by a missile, similar to what happened to Malaysia Airlines flight MH17 over Ukraine in July 2014.