A 4.9 magnitude earthquake struck some 6 miles southeast of Borazjan, Bushehr Province, Iran, and close to Iran's controversial Bushehr Nuclear Power Plant.
According to the United States Geological Survey, the earthquake began some six miles below the surface, which means it was a natural event that was not triggered by military force. Some reports mentioned two earthquakes at the same location.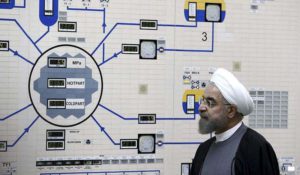 The Bushehr Nuclear Power Plant project is considered unique in terms of its technology, the political environment, and the challenging physical climate. It is the first so-called civilian nuclear power plant built in the Middle East. In November 2014, Iran and Russia signed an agreement to build two new nuclear reactors at the Bushehr site, with an option of six more at other sites later. Construction formally started on March 14, 2017.
What happens when an earth quake hits a nuclear power station?
A system called Probabilistic Seismic Hazard Analysis is used when nuclear plants are designed, to make sure the facilities are capable of withstanding earthquakes beyond the magnitude of the strongest earthquake recorded at that site. When an earthquake is detected, a nuclear reactor will shut down.