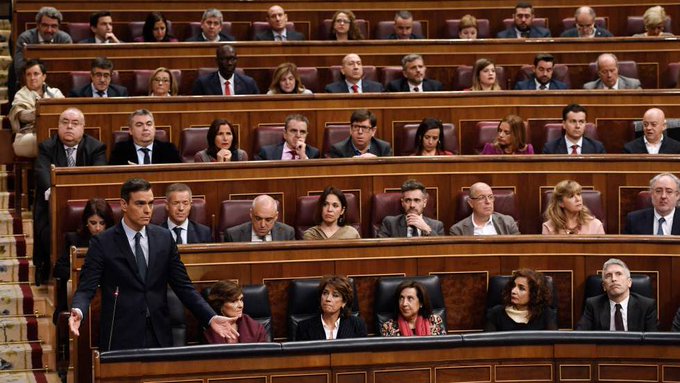 SPAIN is on track to form a new government today (Tuesday) but its economic and political future remains uncertain.
Today Spanish Socialist leader Pedro Sanchez is set to receive enough support at a parliamentary vote that will put an end to almost one year of political uncertainty.
Sanchez faces a second chance of success, in today's parliamentary vote, the socialist leader only needs more votes in favour of his re-election than ones given against it.
That said, never before has the vote on the inauguration of the President been so close. José Luis Rodríguez Zapatero was elected in 2008 by 11 votes; Felipe González, in 1989, by 12. On Saturday's vote, Pedro Sánchez obtained 166 votes in favour of his proposed coalition government with 165 against. Only ONE vote marked the difference.
There is no margin for any mishaps, absence or error in the Chamber for Sanchez's proposed government to be formed.
Saturday's vote was so close that there there is a growing unease within Sanchez's party that the majority could easily be broken, unleashing an unprecedented phenomenon: a wave of pressure and even harassment on the Members of the yes' block to change their vote.
Today's vote is due to at 12.45 p.m. and is expected to put an end to an eight-month interim period in Spanish politics which commenced last April and forced a repeat election in November.
If Sanchez's proposed government goes ahead, it will be the first coalition government that Spain has seen in modern times.
Sanchez tweeted to following in regards his proposal:
"This progressive coalition is the best antidote to the coalition of the apocalypse."@sanchezcastejon #For a Progressive Coalition # All the info on our website
"Esta coalición progresista es el mejor antídoto contra la coalición del apocalipsis". @sanchezcastejon #PorUnaCoaliciónProgresista

Toda la Info en nuestra web 👨🏽‍💻👩🏻‍💻👇🏽 https://t.co/hgXKHNzmkw

— PSOE (@PSOE) January 5, 2020
Pablo Casado, the leader of the main centre right opposition has labelled Mr Sánchez a "sociopath", and dubbing the prospective coalition "a nightmare government . . . The most radical in our democratic history."
At one point in his speech, Mr Casado threatened to take the prime minister to court over government policy on Catalonia, the most divisive issue in Spanish politics.
The prospective government is possibly the most contentious since Spain's return to democracy more than 40 years ago, not just because it would include Podemos, which Mr Sánchez himself had resisted ahead of an inconclusive general election in November, but because of the key roles played by Catalan and Basque separatists in the parliamentary votes.
The one vote margin of support for the proposed coalition was only possible because of the abstentions of the Catalan Republican Left, or ERC, the biggest Catalan separatist party, and of EH Bildu, a far-left Basque secessionist party.
ERC agreed to abstain on the condition that there are talks on Catalonia's future. The talks will commence within 15 days from the formation of the government. At this meeting, the deadlines for further meetings will be set.