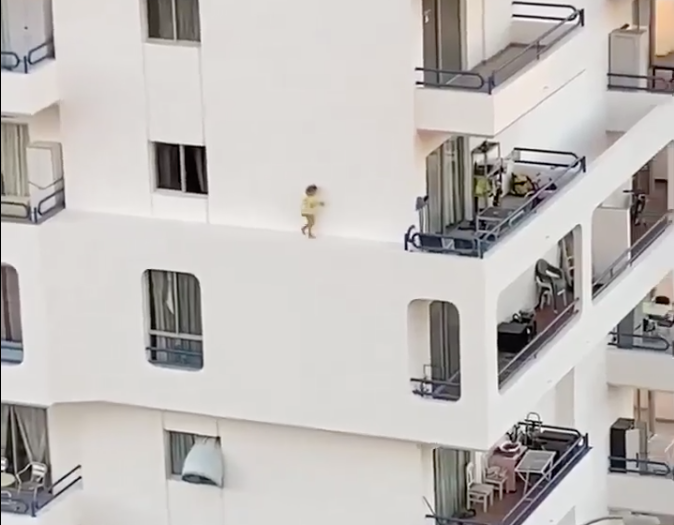 A SHOCKING video of a little girl risking her life on the side of a building has caused considerable alarm across Spain.
The footage shows a youngster playing with death as she walks back and forth along the ledge of a high rise apartment block in Tenerife, where she is seen five-stories high. Most surprising of all is that the child, who is believed to be no older than 6-years-old, seems to be well rehearsed in her actions, where it is suspected that this may not be the first time she made this high risk journey.
The video captioned 'OMG is this for real?' was shared on social media yesterday (January 6) and has since gone viral, garnering thousands of shares and comments, with the title certainly summing up the content.
This is absolutely terrifying to watch. Apparently recorded in Tenerife… I always try to book ground floor rooms when on hols with the kids.. you can see why pic.twitter.com/Vxlps0aoYJ

— Jer Dixon (@JeremyDixonDJ) January 6, 2020



The majority of people who have viewed the footage outraged and there has been a high a level of condemnation that the little girl is dangerously at the hands of death without any sign of parental care.
One user stated: "This is absolutely awful. It doesn't look like the first time she has done it either. The little girl would definitely die if she fell." Another exclaimed: "Where the hell are her parents????! They don't deserve a child."
Another woman who lives in Tenerife was evidently alarmed, promising to find out exactly where the apartment block is and take the video to the police. She said: "I am pretty sure that I know where this is, tomorrow I am going to check and trust me, I am going to call the authorities."
As Euro Weekly News understands, the video was recorded last week by a resident who lives in front of the apartment block named Playa Paraíso, in Adeje. The little girl is from a Finnish family that was on vacation in the Canary Islands at the time, where the mother was apparently showering when her daughter made a bid of dangerous play. Due to the serious nature of the incident, it is reported that building administrators have already sent a safety report to the Council.
However, for the child's sake, it is hoped that she remains indoors in the near future, as although how innocent her actions may have been, she put herself in grave danger.