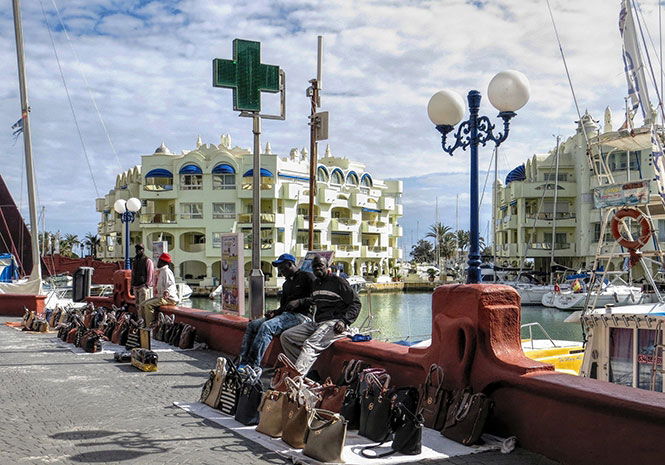 Love them or loath them in Spain, the looky looky men don't really do any harm apart from now and then hassling sells tactics , but they certainly don't deserve to be beaten up and robbed.
Today a gang of three set upon a looky looky man on Benalmadena sea front as he turned up the hill by Las Arenas hotel, not only did they Rob him of his takings, they violently smashed his head on the wall in a chilling attack, knocking him senseless before scarpering with all money.
Again as we reported earlier today crime gangs down from Barcelona Spain are operating along the costa del sol coast right now, as they find it easy pickings after basically being expelled from their thieving traits in Barcelona due to a police purge against their exploits.
The street hawkers themselves are a soft target for these sometimes violent thieves, they know they carry cash, they know it's highly unlikely that it won't be reported to the police due to likely illegal immigration.
We spoke to a looky looky today who only wanted to be named as Arthur, originally from Senegal he told us " Today's attack was very violent , I saw it happen, I was working the street about 50 yards behind, my friend turned the corner where we go for a rest, I followed and as I turned the corner a gang of three were attacking my friend, they kept smashing his head against the wall and they robbed him and ran, I didn't get close enough to help but I did help recover after the attack, the problem is they know we can't go to the law and we are easy targets, this isn't the first occasion either, another friend I share a home with got robbed last week"
" What people don't realise we are only working on commission and if we lose money we have to pay it back to our bosses even if we are robbed"
" We are poor people just trying to earn a few euros each day to survive" Arthur said.
" Whilst we don't normally have a problem, somethings not right at the moment"
Bar owners are appealing to members of the public to keep an eye as Andrew Bradshaw from Brads bar explained to us " Many of customers enjoy the looky looky men who call in, they do no harm and they often go and fetch watch the customers ask for whilst on holiday, when they call in a always give them a free can of soft drink, I hope the public can keep an eye out they don't deserve to be robbed like that, we've been on guard the last few weeks since hearing about these thieves coming down from other areas"
" Last week a punter was walking up by the bridge near Talk of the town bar, 3 men dived out a car rugby tacked him, robbed his pockets and jumped back in the car and sped off, he lost about 400 Euros "
" They saw he was a soft target being 70 years old and his wife in an electric wheel chair"