THREE Kings' parades brought final festive season magic to the streets of towns and villages all over the Costa Almeria.
The provincial capital once again put on one of the most colourful and exuberant processions on Sunday evening, attracting thousands of people into the city centre to enjoy the annual tradition celebrated as the Christmas holidays draw to a close.
Events began with Melchior, Gaspar and Balthazar making their way down the steps of the Alcazaba fortification, mounting camels and setting off for Plaza Vieja.
Addressing the crowd from the Town Hall balcony, Gaspar told them, "We want to bring you happiness, generosity, hope and many gifts."
Among the highlights of the Almeria procession line-up of fantastical floats, music and spectacular street entertainment were a splendid carriage pulled by a giant illuminated horse, along with acrobats, dancers, stilt walkers and fire eaters, and highly imaginative recreations of fairytales.
The three Wise Men and their helpers flung no less than two million, soft gluten-free sweets into the crowds as they wound their way round the city to the Rambla amphitheatre.
In Mojacar the Three Kings' parade was rather more modest, but the children lining the street from the village to the multi-uses centre were no less excited to see Melchior, Gaspar and Balthazar and to gather up the sweets, soft toys and streamers their majesties gave out. Finally the Three Kings presented gifts to Mojacar children, assisted by Mayor Rosa Maria Cano and local councillors.
Adra, Huercal-Overa, Vera and Albox were just some of the provincial towns where the Three Kings fun attracted big crowds this year, all three putting on processions featuring a succession of creative floats, dancers, costumed characters and even giant inflatable unicorns and polar bears.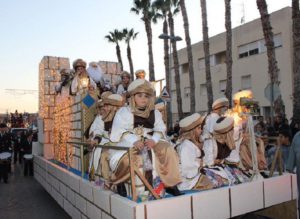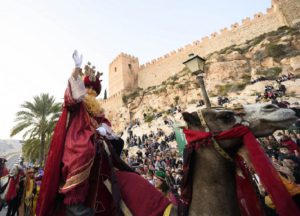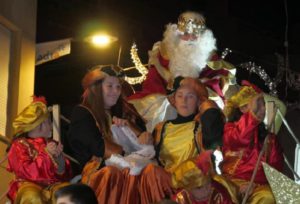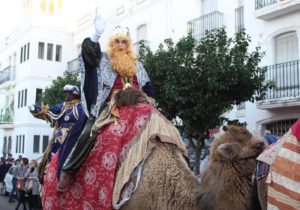 In a classy break from tradition, the Three Kings arrived in Albox this year not on camels but in vintage motors.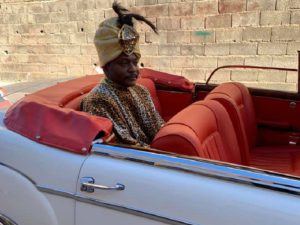 Meanwhile in Huercal-Overa Melchior, Gaspar and Balthazar brought a smile to the faces of young patients in the local hospital and to senior citizens at the municipal residences for the elderly.
As in Garrucha, one of the biggest on the Costa Almeria, families from all over the area packed towns' and villages' main roads, the scrabbles for the thousands of sweets the Three Kings launched as they went by distinctly competitive.