Senior Iranian figures including the country's Supreme Leader Ayatollah Khamenei attended the general's funeral on Monday, where his daughter Zeinab Soleimani said the US and its ally Israel would both face repercussions.
In an address broadcast live on state television, she said: "Crazy Trump, don't think that everything is over with my father's martyrdom."
She added that a "dark day" would befall the US and Israel as a result of his death in Baghdad on Friday.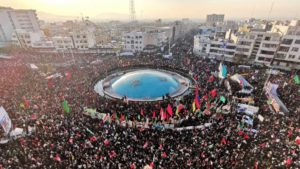 Her statement came after her father's replacement General Esmail Ghaani, who now leads the Quds unit of Iran's revolutionary guard, said he would get "rid of America from the region".
Speaking ahead of the funeral in Tehran, he said: "God the almighty has promised to get his revenge, and God is the main avenger. Certainly actions will be taken."