Harvey Weinsteins rape trial begins in New York as Hollywood producer faces life in prison
Oscar-winning movie producer Harvey Weinstein has arrived at a Manhattan court to face trial. 67-year-old Weinstein, once one of Hollywood's most powerful figures, faces allegations that he raped one woman in a Manhattan hotel room in 2013 and performed a forcible sex act on a different woman in 2006. The trial at New York's Supreme Court is expected to last two months and will be the focus of intense media scrutiny. July selection begins this week, more than two years after the allegations first came to widespread public attention, catalysing the #MeToo movement.
Since the Harvey Weinstein story broke more than two years ago, everything about it has been outsize: the scope of the allegations of sexual harassment and assault, stretching back decades; the number of his accusers, who total more than 80; and the global scale of the reckoning their stories have inspired.
Now, as the Hollywood producer's criminal trial began in Manhattan, the outcome already is anticipated as a verdict on much more than one man's alleged wrongdoing.
Many supporters of the #MeToo movement that Mr. Weinstein's accusers helped ignite are looking to see whether the legal system can deliver justice for victims. Lawyers for Mr. Weinstein, who lost his company, his reputation and his marriage, are arguing that the case is proof that #MeToo has gone too far. At the courthouse, media from around the world, demonstrators outside and spectators in packed galleries will be watching.
But for all the expectations about the high-profile trial, the jurors will be hearing a narrow legal case, with an already-fraught back story and a highly unpredictable result.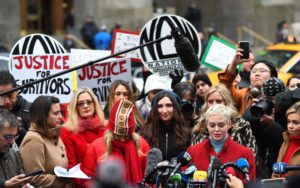 While prosecutors intend to call several female witnesses to show a pattern of misconduct, the charges rest largely on two women. Mr. Weinstein is accused of forcing oral sex on a film production assistant and raping another woman, who is still anonymous, her story not publicly known. Most of the other allegations against Mr. Weinstein dated too far back to be prosecuted, fell outside New York's jurisdiction or involved abusive behavior that was not criminal. Other accusers were unwilling to participate, convinced the personal toll would be too great.
The prosecutors' path to the courthouse has been difficult. They were forced to drop one accuser who had been central to the case. The lead detective was ousted over allegations of police misconduct. And Mr. Weinstein, who claims his sexual encounters were consensual, produced emails that he says show a long, intimate relationship that continued after the alleged rape.
The case continues…