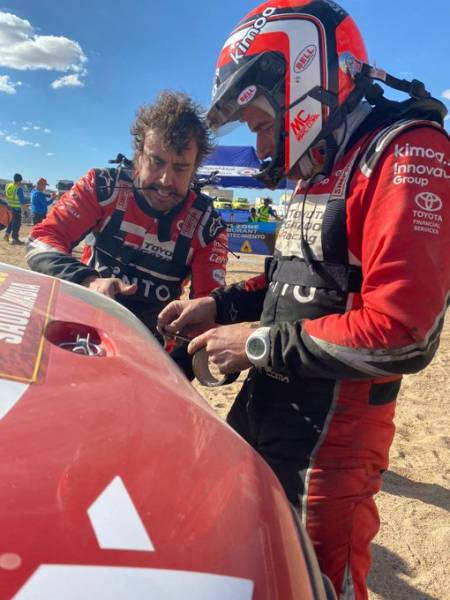 SPAIN'S Fernando Alonso breaks the suspension and says goodbye to winning the Dakar.
The Argentinian Orlando Terranova (Mini) became the new leader of the Dakar today (Monday) after finishing second in a stage that was won by South African Giniel De Villiers (Toyota) and where Spanish Fernando Alonso (Toyota) broke the suspension of a wheel and was left standing for hours.
After a solid opening day, Fernando Alonso had a frustrating second day losing well over two hours when he broke a wheel on his Gazoo Racing Toyota during the second stage of the Dakar Rally in Saudi Arabia.
The incident dropped the Spaniard down the order, from 11th at flag-off to 53rd by the time he arrived at the end of the stage.
The Spanish double Formula 1 World Champion was forced to wait for his assistance team after breaking a wheel, the two hour loss has dealt a major blow to Fernando's hopes of a top ten finish in his Dakar debut.
The Asturian, who had made his Dakar debut the day before with a remarkable 11th place on the first stage, remained stuck at kilometre 160 of the stage until he and his co-driver Marc Coma were able to make the necessary repairs themselves.
At the time of the occurrence, the Spaniard was running at similar times to the lead cars of the race, Alonso dropped down in the general standings, far from the lead positions where he had finished after the first stage.
A tweet from the official Dakar account explains the complex mechanism used to fix the damaged car:
That'll sort it" "Yeah that'll do the trick" Zip-ties and duct-tape.@alo_oficial @marc_coma #Dakar2020
"That'll sort it"

"Yeah that'll do the trick"

Zip-ties and duct-tape.👍@alo_oficial @marc_coma #Dakar2020 pic.twitter.com/ICiZRijiTP

— DAKAR RALLY (@dakar) January 6, 2020