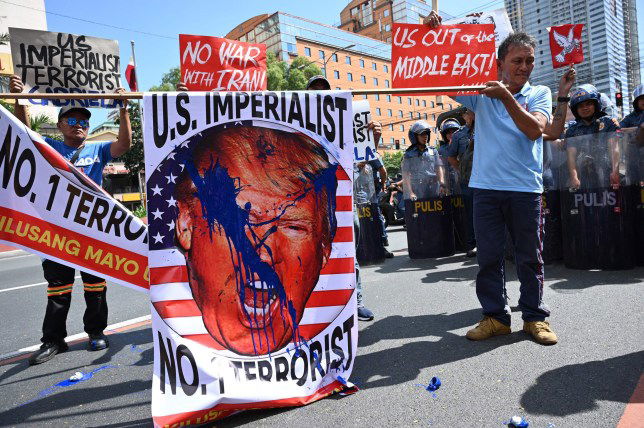 An organiser of the funeral of General Qasem Soleimani has called on every Iranian to donate $1 to fund a bounty on Donald Trump.
They want to raise $80 million (£60 million), according to state TV and threatened to attack the White House in response to the top official's assassination.
The attack was ordered by the president himself and has sparked international condemnation. That threat, along with other rhetoric over the weekend, led Trump to say the US could respond 'in a disproportionate manner' to any attack on US people or targets.
He also insists Iranian cultural sites are fair game for the US military, dismissing concerns within his own administration that doing so could constitute a war crime under international law.
He also warned Iraq he would levy punishing sanctions if it expelled American troops in retaliation for a US airstrike in Baghdad that killed a top Iranian official. Mr Trump's comments on Sunday came amid escalating tensions in the Middle East following the assassination of General Qasem Soleimani, the head of Iran's elite Quds force.
Iran has vowed to retaliate and Iraq's parliament responded by voting on Sunday to oust US troops based in the country. Mr Trump first raised the prospect of targeting Iranian cultural sites on Saturday in a tweet. Speaking with reporters as he flew back to Washington from his holiday stay in Florida on Sunday he doubled down, despite international prohibitions.
He said: 'They're allowed to kill our people. They're allowed to torture and maim our people. They're allowed to use roadside bombs and blow up our people. And we're not allowed to touch their cultural sites? It doesn't work that way.'
Britains View so far on the conflict
Boris Johnson has spoken out against Donald Trump's threat to bomb 52 Iranian cultural sites if the crisis escalates, in a rare crack in the transatlantic alliance.
"There are international conventions in place that prevent the destruction of cultural heritage," the prime minister's spokesman said.
However, he declined to say whether such an attack would be a war crime – and gave stronger backing to the assassination of Qasem Soleimani than in Mr Johnson's comments on Sunday.