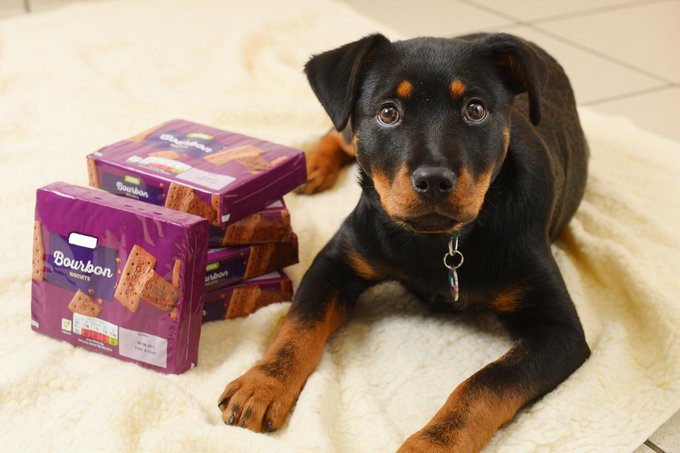 A 15-week-old puppy had to undergo life-saving treatment after gobbling down a double pack of chocolate biscuits all on her own.
Owner Jo Higgs, 44, had only left her Rottweiler puppy momentarily whilst she popped out to do the school run, however on her return home she found her puppy, Zeena, looking rather sheepish and bloated with the empty, chewed-up wrapper from the Bourbon biscuits on the kitchen floor.
Some dogs sniff chocolate and don't touch it, no doubt alert—through their sense of smell—to the chemical theobromine found in chocolate which is extremely poisonous to animals.
This was not the case however for young Zeena, who had to be rushed to the vets on acting "strangely" and exhibiting a "bloated tummy" after guzzling down more than 3g of chocolate.
PDSA vet Paul Cossey administrated medication to make the puppy sick and prevent further absorption of theobromine, the chemical in chocolate that can be fatally toxic to pets. Then kept the puppy in overnight.
Mr Cossey informed that there are lots of food considered a "tasty treat" but can be deadly for animals. These include chocolate, grapes, currents and raisins and some nuts.
According the PDSA vet, onions, garlic and chives can also be poisonous, stressing the importance in knowing what pets can or can't eat. Advising that if a pet owner believes that their pet has ingested something they shouldn't have, to speak to a vet immediately.
Fortunately Zenna was able to recover, and hopefully she's learnt her lesson to stay clear of chocolate from now on.
Why Chocolate Can Be Poisonous for Your Dog
Chocolate is poisonous to dogs; however, the hazard of chocolate to your dog depends on the type of chocolate, the amount consumed and your dog's size. In large enough amounts, chocolate and cocoa products can kill your dog.
Why not chocolate?
The toxic component of chocolate is theobromine. Humans easily metabolize theobromine, but dogs process it much more slowly, allowing it to build up to toxic levels in their system.
With large amounts, theobromine can produce muscle tremors, seizures, an irregular heartbeat, internal bleeding or a heart attack. The onset of theobromine poisoning is usually marked by severe hyperactivity.
Cocoa, cooking chocolate and dark chocolate contain the highest levels. The high level of theobromine in dark chocolate means it takes only a very small amount to poison a dog. Less than an ounce of dark chocolate may be enough to poison a 44-pound dog.