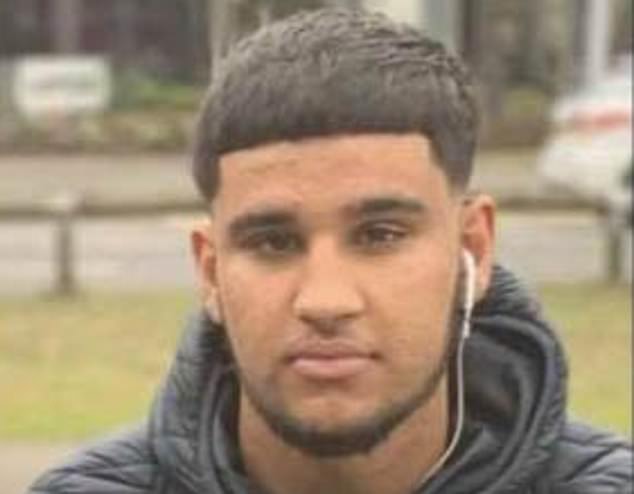 Teenage boxer, 18, nicknamed 'Tank' is stabbed to death outside hospital just hours after leaving training at gym
A teenage boxing enthusiast, 18, was stabbed to death yards from the entrance to a hospital on Saturday – in the second murder in Britain this year. The victim, named locally as Mohammed Ashraq, was treated for a stab wound in the chest by officers at the scene in Wexham, Buckinghamshire, yesterday evening.
The teenager was taken to hospital but was pronounced dead less than an hour later. Two 18-year-old men from Slough have been arrested on suspicion of murder and remain in police custody. Off-duty medical staff are also understood to have offered help at the scene on Benjamin Lane, near to Wexham Park Hospital.
Boxing trainer Khalil Khalid wrote in a tribute to Mohammed: 'Really sad to hear this news.
'Mohammed attended our gym a few times with friends. Had a passion to keep fit and learn about boxing. He was not a trouble maker just loved sport. Sadly lost his life to knife crime.'
The victim's friend Amar Kayani wrote: 'I write this message with a heavy heart and tears in my eyes. 'We called him "tank" at the boxing club because of his power and his relentless boxing style'
Mr Khalid, who had been a youth worker for several years and now works as a private boxing instructor at Ks Gym, said Mohammed had not been the type of boy to get involved in trouble.
He added: 'I could tell he was not like that. Having been working with youth offenders' prevention, you see the signs of when a kid is going to go this way or going to go that way. I have had to kick some of the kids out of the gym, but not Mohammed.
'Last year he came for a few sessions, he was on his boxing, you could tell he was dedicated. He was not the type who was making trouble. He threw his punches correctly, he would not be the type to mess about.
'He was well mannered, no cockiness and his skills were very good. It is not like he had been doing it for a three or four months, he had been doing it for some years.
'He went just yesterday morning with two of his friends to another boxing gym. One of his friends' dads called me later and said he had only just dropped him home before he heard what had happened.'