A BRIEF political storm pursued in Barcelona, Spain, yesterday evening (January 3), as the Spanish flag was lowered from the historically significant Palau de la Generalitat building in Plaza de Sant Jaume.
The surprising move, which was met by a round of applause by protestors supporting Catalonia's independence who gathered in the square, is said to have been in response to the decision to strip the Catalan president, Quim Torra, of his duties.
However, approximately 17 minutes later, the Spanish flag was once again waved at its full glory on the top of the building, where a banner was then hung on the balcony by members of the Catalan National Assembly (ANC) to condemn what they believe is political injustice, where the message 'Freedom of political prisoners and exiles' was written.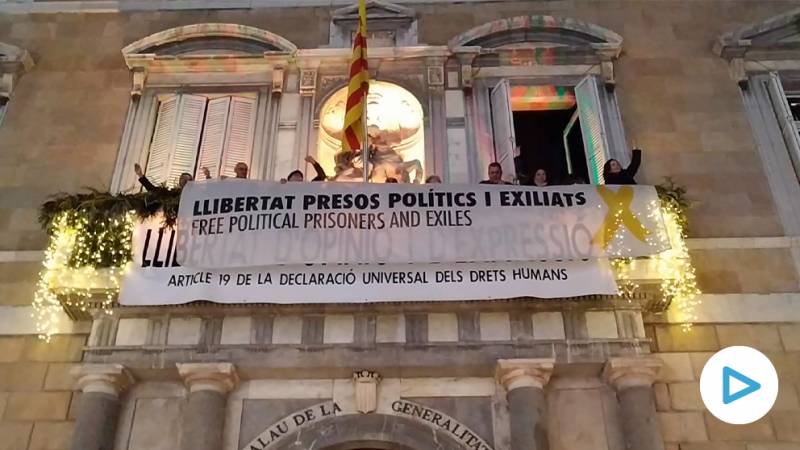 Thousands of people had descended to Plaza de Sant Jaume last night, following a call from the ANC to reject the decision made by the Central Electoral Board (JEC) to execute the lengthy disqualification of Torra.
As Euro Weekly News understands, the ANC was urged to carry out both actions by Torra himself, with the group taking responsibility through their official Twitter account, with the following messages:
⬛️⬜️📷 Aquesta és la imatge del Palau de la Generalitat sense bandera espanyola. #ObjectiuIndependència pic.twitter.com/Zx1oar2boE

— Assemblea Nacional 🧭 (@assemblea) January 3, 2020



The bold actions took place just hours before Pedro Sánchez held his political debate on Saturday morning (January 4) which was watched by millions of viewers across Spain.