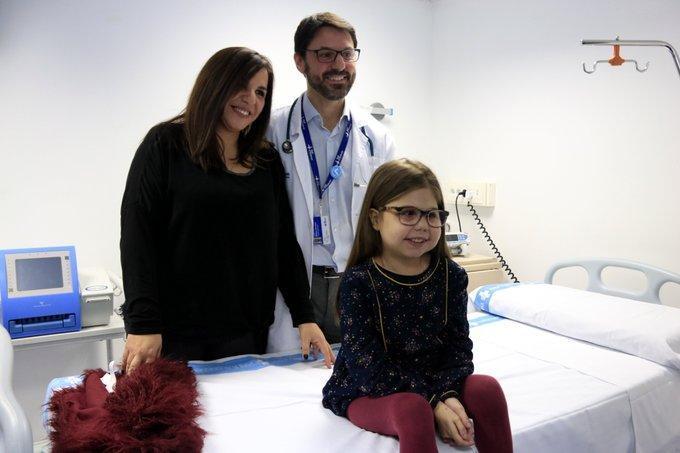 THE leading Vall d'Hebron Hospital in Barcelona, Spain, has carried out the first triple organ transplant of a heart, liver and kidney in the country.
The complex and life-saving operation was given to a ten-year-old girl who suffers from an extremely rare genetic mutation of which there are only 10 cases reported in the world. The young patient, who has been named as Iria, suffers from a mutation of her genes which is considered by medical experts to be rapidly progressive and caused tissues in her organs to stop functioning.
In the case of Iria, the condition first manifested in her heart when she was just four months old, although at the time, doctors could not diagnose the exact pathology she suffered. From that moment, she has been in and out of hospital, where she has suffered from multiple heart failures and permanently relied on a respirator and intravenous medication.
For this reason, specialists at Vall d'Hebron Hospital urged Iria's parents to agree to a triple transplant in a bid to remedy the severe deterioration of her heath. As Euro Weekly News understands, thankfully the organs arrived within a few weeks that the child was put on the waiting list, where she was considered to be an exceptional case. Given the need of three organs, doctors had thought Iria would be waiting a considerably longer time, since many children can wait up to one year or longer to find a donor.
The majority of patients with this type of genetic mutation die within a few months of birth or do not make it to full term during pregnancy, making Iria, despite her very young age, the oldest patient in the world to survive this pathology. She is also the first in Spain to ever receive a triple heart, liver and kidney transplant.
As reported by doctors treating the young girl at the hospital, Iria's first operation presented multiple complications, where the donated heart initially failed to pump correctly. However, despite the odds, Iria has flourished since, with her mother revealing that her daughter is now able to live a normal life thanks to the excellent care received at the hospital.
Antonio Román, the General Director of Vall d'Hebron, stated that the successful transplants were made possible due to Spain having "the best health system in the world" where the life-changing operations will set a precident to other hospitals across the country.