THE man who has been hailed as the 'Hero of Dénia' after saving a disabled man from a house fire has been granted residency in Spain.
Gorgui Lamine Sow, 20, is officially legally allowed to work in Spain after a petition was launched by the local community to expedite his residency application. The government backed the outpouring of support for Gorgui, and today delivered his papers as considered his brave actions to be a 'heroic act of rescue', where his collaboration with the emergency services, police and public were deserving of recognition.
Gorgui, who is originally from Senegal and has resided in Gandía for several years, was a regular visitor to Dénia as sold handicrafts on the streets. On one of his visits, he had noticed black smoke billowing out of a property, where flames began engulfing the home. He then heard the cries of a local resident named Alex Caudeli who was trapped inside with no means of escape as was confined to a wheelchair after suffering from a stroke.
Without hesitation, Gorgui risked his own life and went into the property, climbing up the building's wall and pulling Alex out of harm's way. He then left the scene to continue with his day as if nothing had happened, where a campaign was subsequently launched by the community to find the courageous man.
Speaking to the press today (January 3), Gorgui explained his shock that people were looking for him as he believed anyone would go that extra mile to help someone in need, stating: "I am no hero. I didn't think about it, the man was in danger and I went up to help him. I did it with my heart."
Alex, who states he is forever indebted to Gorgui, recently said in an interview that: "This guy saved my life. He deserves the legal papers, I would even give him my house if it wasn't destroyed by the fire."
He added: "He saved my life. He climbed the wall and tore down the blind that was on fire. He grabbed me like I was a sack of rice, and he really took the strain, because besides not being able to walk, I have a problem in my legs, I suffer from vertigo, and I couldn't hold still."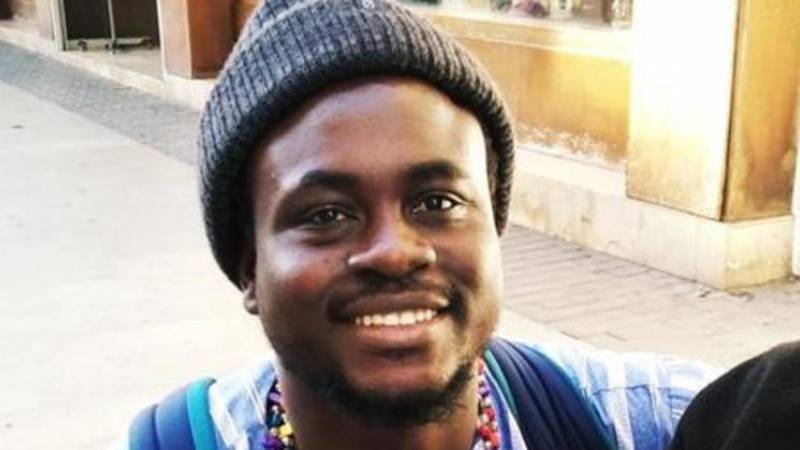 Gorgui who is married with an 8-month old baby girl, had been anxiously waiting to obtain his residency so that he would be able to find a better job to provide for his young family. Thankfully, today marks a momentous day for the exceptionally honourable man, where he dreams of one day becoming a truck driver.
The case resonates deeply with that of Mamoudou Gassama, an immigrant from Mali who risked his life to climb an apartment building in Paris to save a child hanging from a balcony. After residents tracked Mamoudou, he was granted French citizenship and has now fulfilled his life-long ambition of becoming a city firefighter.