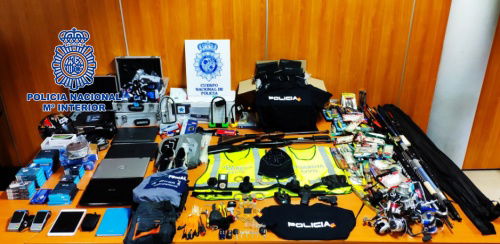 A GANG whose members dressed as policemen to rob shops and stores has been arrested in Madrid.
National Police say that the three men arrested wore police vests or T-shirts to gain access to the premises pretending to be law officers.
During several searches, National Seized several police vests and T-shirts, handcuffs and simulated pistols that the allegedly detainees used to intimidate their victims.
They have also recovered stolen goods taken during the robberies and it has been found that they were also allegedly engaged in committing burglaries in homes, forcing locks by means of the bumping method
The investigation began last September following the commission of a robbery with violence and intimidation in an establishment in Andújar (Jaén). The perpetrators entered the establishment wearing vests pretending to be agents of the authorities and beat and handcuffed the shop owner.
Investigators identified three suspects and found that the person thought to be the leader was an extremely violent individual who was hiding in the home of another of those under investigation in Perales del Río-Getafe (Madrid).
In the course of the investigation, the agents managed to link the dismantled criminal group to several burglaries in homes committed in the Community of Madrid. Specifically, six robberies were reported between August and October of 2019 in the municipalities of Torrejón de Ardoz (1), Fuenlabrada (4) and Alcalá de Henares (1).
In this last robbery, those investigated took the keys of a vehicle from inside the home, which they stole and used as a means of transport in all the events committed, changing the registration number twice.
After several steps, the agents arrested the main suspect in Getafe (Madrid) searching two homes where they located reflective police vests and police corps shirts, handcuffs, simulated guns, a machete and a badge holder to hang around the neck.
A large number of apparently stolen goods were also found, making it possible to shed light on a violent robbery committed in Madrid in which several raiders handcuffed their victims and threatened them with firearms. The effects recovered from this robbery were valued at €200,000.
The police also located various tools for committing robberies with force – master keys and cutting systems, among others – and recovered numerous effects likely to come from the commission of different thefts – jewellery, electronic equipment, and two dataphones.
In the last phase of the investigation, the agents arrested the other two alleged members of the criminal group and searched the home of one of them in Fuenlabrada.
There, a multitude of tools used to open doors by means of the bumping method – such as pliers, screwdrivers, "parrot pick" key, or a drill – were searched and any effects that might have come from the commission of criminal offences were recovered.
The three detainees were placed at the disposal of the judicial authority, which decreed that all of them should be remanded in custody.