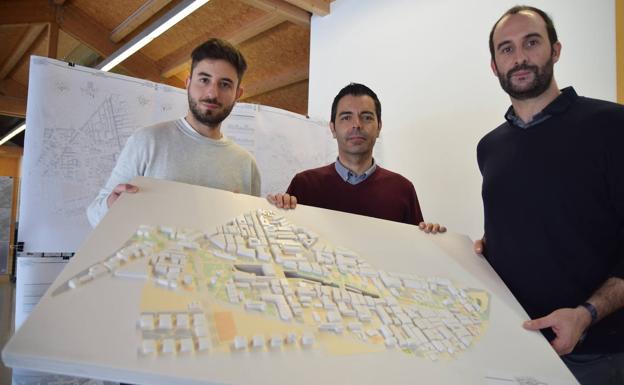 WITH the closure of the underground train lines at Murcia station, student of the Polytechnic University of Cartagena (UPCT) David Cano Lacárcel has raised the question of what to do to integrate the neighbourhoods that the train has divided over the last century and a half.
Recovering green spaces, space for pedestrians and the relationship of the residents with the station is the objective of the urban design project carried out by the student, who proposes that rail traffic becomes an "integrative claim" with terraces and public spaces that fly over the tracks. "The visual enjoyment of the trains can be an attraction for the area after so many years of conflictive relationship", underlines Marcos Ros, who along with Fernando García has directed this Final Degree Project.
Academic work includes the rearrangement of road traffic to provide a direct link with the motorway to the station, through a roundabout in the current San Pío X underground passage, and the revival of trade south of the semi-pedestrianized roads of Marqués de Corvera, which would become the backbone of Carmen and Santiago el Mayor and where the Lacárcel places the new station. The current one would remain as a railway museum. The project focuses on the green spaces to "sew the urban fracture" that the roads have left and projects a large park in the abandoned land occupied by the old gas tanks, where it even proposes the creation of an exciting outdoor cinema which would include the installation of a stage and hospitality premises.