Reports are coming in that there could be some Spanish Nationals trapped in raging bush fires in Australia, we understand they were last seen in a group huddling together by the beach waiting to be rescued. Although not 100% confirmed that they are safe yet we do know that around 1,000 tourists and residents were eventually evacuated by the Australian navy and taken further down the coast. There is also a massive military effort going on with troops, ships, and aircraft sent to the region to help relocation and firefighting efforts.
Australia is getting hotter-it broke its all-time temperature record twice in December. An average maximum of 40.9C was recorded on 17 December, broken a day later by 41.9C, both beating 2013's record of 40.3C. By the end of the month every state had measured temperatures above 40C – including Tasmania, which is usually much cooler than the mainland.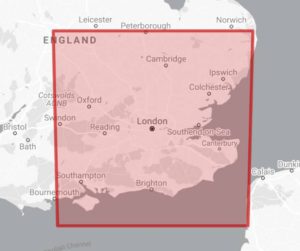 U.S. sends more than 100 firefighters to help Australia battle flames- Canada is also sending firefighters to Australia for the first time, and the Canadian Interagency Forest Fire Center, told CBC that a group of about 36 is assisting.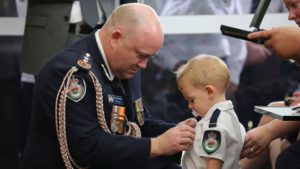 Son of firefighter Geoffrey Keaton awarded medal at funeral
The son of a volunteer who died fighting Australian bushfires has been presented with his father's medal for bravery at his funeral. Harvey Keaton, aged 19 months, wore a uniform and sucked on his dummy as he received his father's posthumous medal at Thursday's funeral near Sydney.
Dozens of firefighters formed a guard of honour to salute Mr Keaton's coffin. He and colleague Andrew O'Dwyer died on 19 December en route to a blaze, when their fire truck hit a fallen tree.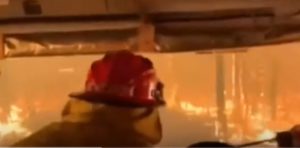 The Australian PM: "The Australian people are over-whelmed and eternally grateful for their courage, bravery, and sacrifice"
Thousands of firefighters have been deployed every day for months, battling enormous fires that have yet to be brought under control. The vast majority are unpaid volunteers.
Here just a few of the tweets ..
"This is more courage than I'll probably ever know."
"Imagine going to work and not knowing if you'll see your family again"
"Major respect for these guys. Traveling through literal inferno to save entire species."
"The next time an athlete, actor or musician stands in front of a tv audience with their hands holding an "award"…play this clip instead." Enough said!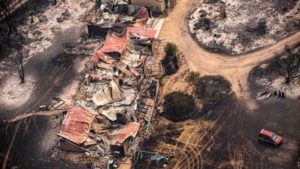 Australian wildfires claim even more lives on New Year's Day
Experts have warned the death toll is expected to rise as bushfires continue to engulf the southeast coastal region of the country. Tourists have been told to leave the area. Smoke has reached as far as New Zealand. Since September, a total 18 people have died as a result of the fires – seven of them in New South Wales this week alone. Others are missing.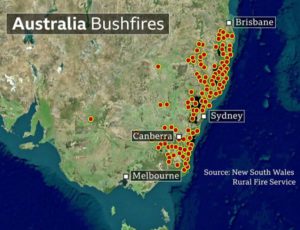 What areas are affected?
Fires are raging in every state, with some of the greatest conflagrations in NSW and Victoria. The Gospers Mountains fires, in NSW, have burned over half a million hectares, and scientists suggest it could be the largest single-ignition point fire in Australia's history. The total area that's been burned is rapidly approaching 6 million hectares (almost 15 million acres). That's almost seven times the amount of burnt area the Amazon experienced in 2019 and about three times the amount burnt in California's 2018 wildfires.
When will the fires end?
Another complex question. Predictions suggest they will stretch well into 2020. After all, Australia is only one month through summer and dry, hot conditions persist through March and April. Much-needed rain, which would help alleviate some of the uncontrolled blazes, is still forecast to be months away.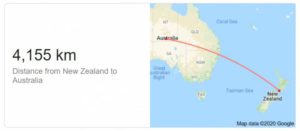 The animal kingdom Death Toll
Ecologists at the University of Sydney estimate that up to 480 million animals may have perished, including up to 8,000 koalas. It is feared that several species may well now be classed as extinct.