Spanish sport and Spain's tops sportsmen and women have marked 2019 with tears of joy, but there have also been moments of bitter heartbreak.
The victories of Rafa Nadal, the feat of Ona Carbonell, the Marquez brothers achievements are just a scattering of Spanish Sporting achievements in 2019.
One of the top sporting highlights has to the Spanish basketball team victory at the World Cup in China after beating Argentina in the final. And Spain hammering France to win the Women's Euro Basket in Belgrade.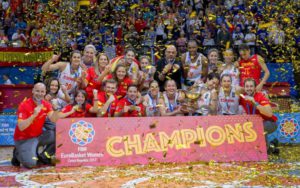 Other sensational results from Spanish sportswomen include the feats by Ona Carbonell for becoming the most successful Spanish swimmer in the history of the World Swimming Championships with three medals in South Korea. Lydia Valentín, for receiving her gold from London 2012 and proclaimed runner-up in the World Weightlifting Championships, as well as Sandra Sánchez for achieving no less than 14 medals in karate throughout the year.
In motorsport, the Márquez brothers rounded off a dream year for Spain with Álex winning the Moto2 World Championship and Marc the MotoGP, the premier class.
Rafa Nadal shone once more in the tennis world taking another Roland Garros title, U.S. Open and Davis Cup, among others.
In football, Barça conquered La Liga and was surprised in the final of the Copa del Rey by a great Valencia who won the cup after an 11 years drought.
In women's football, Atlético won the women's league in a year that will remembered for the world record of attendance at a women's football match: Wanda Metropolitano recorded the figures at 60,739 spectators.
2019 was also the year Spanish football superstars, Villa and Torres announced their retirement from the world of football.
In athletics, Orlando Ortega won bronze at the World Cup in Doha while Gómez Noya, in triathlon, finally won his much sought after World Long Distance Triathlon Championships.
The Davis Cup has also been one of the most eye-catching tournaments of 2019. The change in format promoted by Gerard Piqué brought stellar matches and an epic final victory for Spain, all with the death of Roberto Bautista's father in the middle of the tournament and a sublime Nadal who did not lose a single match.
2019 has been a year filled with sporting success for Spanish athletes, but it has also been a year of heartbreak and pain.
José Antonio Reyes, a former footballer from Seville and Real Madrid, died in a car accident while on his way to his native Utrera on June 1.
Emiliano Sala also died while travelling from France to Cardiff after closing his transfer with the British team. The plane he was on crashed and the footballer's body was found days later.
The disappearance of Blanca Fernández Ochoa ended tragically, when days later her lifeless body was found in the Guadarrama mountains of Madrid.