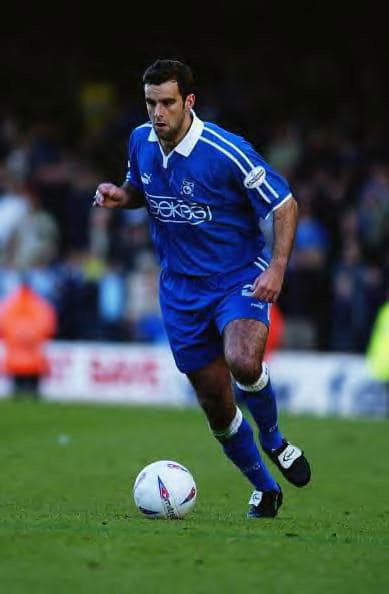 Chris Barker, a family man, had 2 young daughters, who are still at primary school, and a brother, Richie, another professional footballer. He committed suicide on New Year's Eve and was found dead on New Year's Day in Cardiff.
Fans have taken to twitter and facebook to announce their shock and dis-belief, messages of condolence fill the screen on the Cardiff City forum with a close friends mentioning "Chris was a deep person who struggled with the sudden loss of his Dad"
Depression sets in after the buzz of the game has gone – he was so desperate to play football and for the buzz he even played for Weston Super Mare at the end of his career to get his fix before going into management. The problem is when you live on the " buzz " in business and sport and it's taken away depression kicks in hard for many and causes devastating mental health issues. This devastating news for friends and family has possibly uncovered an unrecognizable mental health problem that Chris was hiding, people were only speaking to him the day before, and he was jolly and fine.
Here is part of an interview that Chris did with Cardiff City FC a few weeks ago.
Born and raised in Sheffield, Chris Barker's introduction to playing football professionally came following his time playing as a schoolboy, being spotted by a Barnsley scout as a teenager…
Adjusting to playing professional football was a challenge for the 19-year-old, but he stepped up and quickly became a regular for the South Yorkshire side.
Barker made the move to South Wales following a three-year spell at Oakwell, where he had made a total of 130 appearances in all competitions for the Tykes. Having joined the Club in the third tier, Chris would play a crucial role in City's promotion to the First Division (now Championship) at the end of his first season in South Wales.
As well as the historic promotion achieved during his time at the Club, Barker also fondly remembers the support that he received from the City faithful, and the effect that the atmosphere created by the supporters had on the team's performances during that time.
In June 2016, he signed for Hereford as a player-coach. In October 2016, he joined National League South side Weston-super-Mare as player/assistant manager to boss Scott Bartlett. Chris left Weston-super-Mare in July 2017.
Tributes continue to flood in for Chris…
Quote " I'm shocked by the sad news of the passing of Chris Barker, one of footballs Mr nice guys and it was a pleasure to always do business with him, always came across as a happy go lucky young man with a level head " football agent Steve Day
Quote : "Can't comprehend the breaking news. Transferred Chris Barker to Cardiff City and then to QPR, ironic given today's fixture. Such a wonderful guy, client and stalwart for Cardiff City FC. Genuinely gutted. RIP Chris Barker." Andy Evans, Chris's Agent
Quote : " Post by Forever Blue » Wed Jan 01, 2020 10:22 pm
I knew Chris Barker really well and his girlfriend and daughter, very very sad news . RIP :bluebird:
Always had time for people and I use to chat to Chris for hours in the coffee shop on Albany road.
A True Gent :bluebird:
Annis Abraham Mallorca based businessman
From Twitter
RIP ex Southend defender Chris Barker who unfortunately passed away yesterday at just 39 years old. Barker made 117 appearances for the club between 2010 and 2013
Loyal player to all clubs – down to earth guy – salt of the earth – brother called Riche – family man
"Unfortunately, and so sadly this is true. I had a phone call late this afternoon from his best mate who along with Chris, played cricket in the Cardiff midweek league for our team. I am still in shock at the news, as Chris was such a popular and likeable team mate."
"Devastating for his family and friends, awful news indeed."
IF THIS STORY AFFECTS YOU PLEASE CALL THE SAMARITANS IN THE UK OR YOUR NEAREST HELP CENTRE IN SPAIN.