The Original Charity Shop and Library in Javea has had a busy end of year. Staff were delighted when the shop received a visit from the British Ambassador to Spain, Hugh Elliot, accompanied by his wife Toni and the British Consul, Sarah-Jane Morrison. The Ambassador spent a relaxed half hour in the shop, where he was welcomed by President Georgina Harvey, as he celebrated his first visit to Alicante province.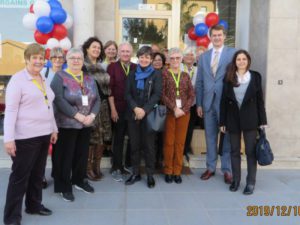 In keeping with tradition, volunteers at The Original Charity Shop and Library gave Santa a helping hand with a heavy sack of Christmas presents. Together, Santa and his elves gave each child a special gift at the Raquel Paya School for special needs. Volunteers were then treated to tapas and wine carefully prepared by teenagers attending a catering course. The proceeds were collected from the sale of raffle tickets and the school will also be presented with a cheque for €1,000.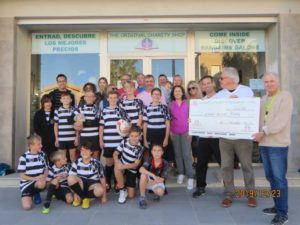 Another big donation has also been made by The Original Charity Shop and Library as they gave 2,000€ to "Javea Aguiles" to help purchase rugby outfits and equipment. "Javea Aguiles" rugby club was founded three years ago by expat rugby enthusiasts and now has over 60 children who train under the supervision of eight volunteer coaches. The teams are made up of 50 per cent Spanish children and 50 per cent expats. More information can be found on Xabia rugby on Facebook and the club is always looking for new sponsors.