FIVE people are under arrest for operating a suspected cannabis club in Roquetas de Mar.
The Guardia Civil launched operation 'Canna' on the back of intelligence that a commercial property was being used for the sale and consumption of marijuana.
Surveillance of the premises revealed a large number of people going in and out following a phone call or a knock on the door, especially in the evenings and at weekends. At the same time investigators established that a request was made in September to register the association with Asociaciones de Andalucia, on the basis drugs were for medicinal and therapeutic purposes, a request still being processed.
The Guardia also reported an increase in drug confiscations in the area, the individuals admitting they got the substances from the premises under investigation. Guardia searches of a number of people who spent just a few minutes in the property found they had drugs in their possession, strongly pointing to sales of illegal substance going on inside.
When officers went in to carry out a search they came across two people trying to hide, one with a dog classified as a dangerous breed. They both claimed they were just standing in for the individuals who ran the set-up.
Officers went on to seize 1,600 grammes of marijuana, 350 grammes of hashish and small amounts of heroin, cocaine, crystal, ecstasy, magic mushrooms, LSD and GHB, along with precision scales, knifes and €680 in cash.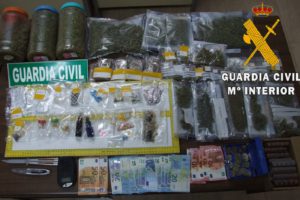 When the Guardia did locate the individual believed to be the head of the association they also had a dog on the list of dangerous breeds with them, which attacked and injured one of the officers.
All five detainees have been charged with drug trafficking. Three of them, identified as the association's president, treasurer and secretary, have also been charged with illicit association.
The president is in addition facing a charge of assaulting an officer. A court ordered he be held in prison pending trial.