POPE FRANCIS has issued a public apology after he was slammed for slapping the arm of a woman after she grabbed onto his hand and pulled him towards her.
The 83-year-old's apology came after he used his first homily of the New Year in St Peter's Square in the Vatican to denounce violence against women, which he had compared to profaning God.
Recalling why he reacted in such a way, Francis said that although he had lost his patience as the woman held onto him, that he had set a 'bad example' for twice striking the women which was made in an attempt to make her release her grip.
The woman, who has not been identified, had unexpectedly seized the Pope's hand, causing him evident alarm where clearly disgruntled, he then wrenched himself free by slapping at her arm.
WATCH: Visibly disgruntled Pope Francis pulled himself away from a woman in a St. Peter's Square crowd after she grabbed his hand and yanked him toward her https://t.co/2nap3R0iQ4 pic.twitter.com/QbGyJDbdPH

— Reuters (@Reuters) January 1, 2020



The pope addressed the incident which has caused a wave of international outrage as he emotionally spoke to thousands of pilgrims gathered in St Peter's Square on Wednesday at the end of the traditional New Year Mass. He said: "So many times we lose patience, even me, and I apologise for yesterday's bad example."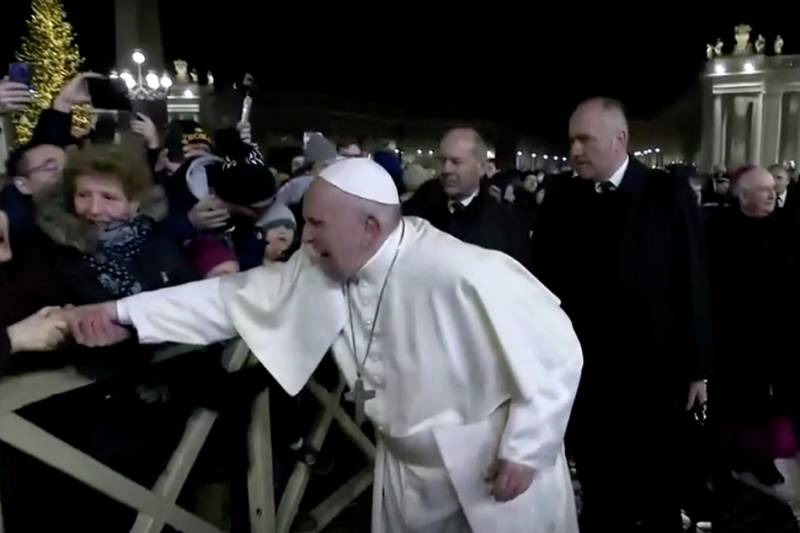 However many people had rejected claims that were put out on social media which called Pope Francis a 'hypocrite', where they defended his actions as a result of being harassed.
If you grab someone and yank them towards you like that, you deserve to get your hand smacked away. The people scolding Pope Francis for this are being ridiculous.

— Matt Walsh (@MattWalshBlog) January 1, 2020
He had used the New Year's Eve service to issue a condemnation of the abuse of women in modern society at St Peter's Basilica where he said that all violence inflicted on women is a desecration of God. Despite creating life, he said women had been "continually offended, beaten, raped, forced into prostitution" and made to have abortions.
"How often is a woman's body sacrificed on the profane altar of advertising, profit, pornography.
"The woman's body must be freed from consumerism, it must be respected and honoured".
"We can understand our level of humanity by the way we treat a woman."
During his homily, Francis also addressed immigration, stating that women who moved abroad to provide for their children should be honoured, not scorned. He claimed that: "There are mothers, who risk perilous journeys to desperately try to give the fruit of the womb a better future and are judged to be redundant by people whose bellies are full of things, but whose hearts are empty of love."
The pope has made concerted efforts this year to give visibility to plight of abused women, where he has even gone against religious protocol to appoint four women to an important Vatican department that prepares the major meetings of world bishops – the first time in history that this has ever been made.