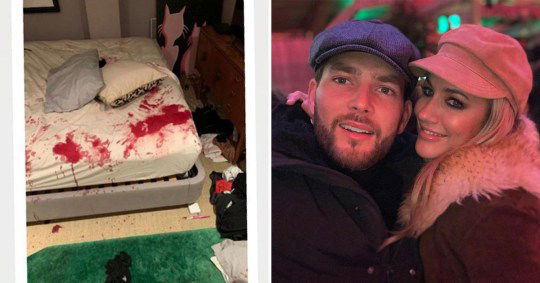 Lewis Burton boyfriend of Caroline Flack did not hit him with a lamp as pictures of blood-stained sheets emerged on social media.
The model and professional tennis player has taken to social media to set the record straight after photos which appear to show the aftermath of their argument in Caroline's bedroom.
The photos show blood-splattered sheets on a bed, although Lewis claims the blood isn't his. Posting to his Instagram story, Lewis exclaimed: 'B******t this blood isn't mine and I didn't get hit over the head with a lamp, can everyone stop now. 'I love this girl more than anything no one knows what's going on or what's happened. She's f***ing harmless and the most amazing person I have ever met."
Love Island Flack faces assault charges in London after Burton called the police saying he was being brutally attacked in a 999 call, although he's dropped the claim the police are continuing with the charges.
As the new news came to light today it didn't impress social media user Emma Parsons from Fuengirola who summed up what many are thinking, Emma said: " It is obvious he is besotted with her and now trying to get her off the charges, he's now turned to being a liar if you ask me, one minute he's making a 999 call and the next dropping charges and saying he wasn't hit and its not his blood – he's just a typical wannabe celebrity, oh and a liar!"